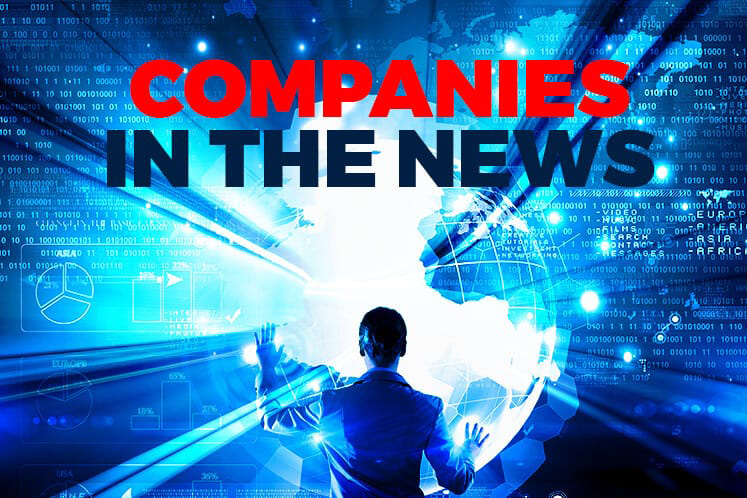 KUALA LUMPUR (Sept 24): Based on corporate announcements and news flow today, stocks that may be in focus tomorrow (Sept 25) include Axiata Group Bhd, AirAsia Group Bhd, Sapura Energy Bhd, Lotte Chemical Titan Holdings Bhd, Poh Kong Holdings Bhd, Eco World Development Group Bhd, Eco World International Bhd and Mah Sing Group Bhd.
Axiata Group Bhd has been granted approval from the Bangladesh Securities and Exchange Commission to list its 68.69% unit Robi Axiata Ltd on the Dhaka and Chittagong stock exchanges. It would be raising RM255.2 million from the listing. The IPO will consist of 523.79 million new shares, representing 10% of Robi's enlarged share capital post-listing. Axiata will continue to be Robi's controlling shareholder after the listing.
AirAsia Group Bhd is looking at options to raise capital for its rebadged digital business arm, AirAsia Digital. CEO Tan Sri Tony Fernandez said it could be convertible debt or equity. He did not disclose how much the company would be raising under this plan. On its core airline business, Fernandes said it would have to wait for borders to reopen. The airline is planning on launching new routes for the interior areas of Sarawak and Langkawi, and one domestic route in Thailand.
Sapura Energy Bhd has refuted allegations over any form of corruption over its Brazilian business or elsewhere, in response to investigations involving Sapura Energy and Seadrill Ltd in Brazil, where bribery was alleged to have taken place for Petrobas contracts. Brazilian and Dutch police have executed search warrants as part of the corruption probe into Seadrill and Sapura, as the Brazilians are eyeing an increasing number of international firms as part of its "Car Wash" corruption investigation. The operation is an attempt to deepen ongoing probes into three contracts worth RM11.25 billion in a JV between Sapura and Seadrill and Petrobas in 2011.
Lotte Chemical Titan Holdings Bhd received shareholder approval for its dividend reinvestment scheme at its EGM today. A total of 99.99% of shareholders said aye to the scheme and the issuance of new shares in relation to the scheme. It said the measure is appropriate to meet the 25% minimum public spread requirement. Its public spread stood at 23.97% as of July 30.
Poh Kong Holdings Bhd's 4QFY20 saw a net profit of RM8.01 million, from a net loss of RM2.31 million in 3QFY20. Q-o-q, revenue grew 59% to RM179.3 million from RM112.46 million. Y-o-y, the group's net profit was down 24.2% from RM10.57 million, and revenue fell 22.67% from RM231.86 million.
FY20 net profit slipped 3.36% y-o-y to RM24.43 million, from RM25.28 million, with revenue declining RM25.51 million to RM748.8 million from RM1 billion. It has proposed a first and final dividend of 1.2 sen per share, the same as in FY19.
Eco World Development Group Bhd saw its net profit for 3QFY20 decline to RM13.8 million y-o-y, from RM50.48 million, due to the decision to write down inventories by RM65 million. Revenue fell 8.34% y-o-y to RM477.87 million from RM521.47 million. Cumulative nine-month net profit fell to RM68.71 million, from RM121.97 million previously, with revenue down 12.5% to RM1.36 billion from RM1.56 billion.
Over at its international arm Eco World International Bhd, net profit dropped to RM37.63 million in 3QFY20 from RM57.94 million a year ago (which was boosted by a forex gain of RM8.81 million). Revenue came in higher at RM615.44 million from RM224,000 a year prior. For the cumulative nine-month period, net profit fell to RM62.88 million from RM68.7 million previously.
Mah Sing Group Bhd is issuing up to RM100 million seven-year redeemable convertible sukuk Murabaha for investments and working capital. It is part of its RM1 billion Islamic medium term notes programme. The sukuk can be converted into shares at 75.5 per share. Mah Sing is planning to raise RM100 million, of which RM95 million will go to future investments and RM5 million for working capital purposes.