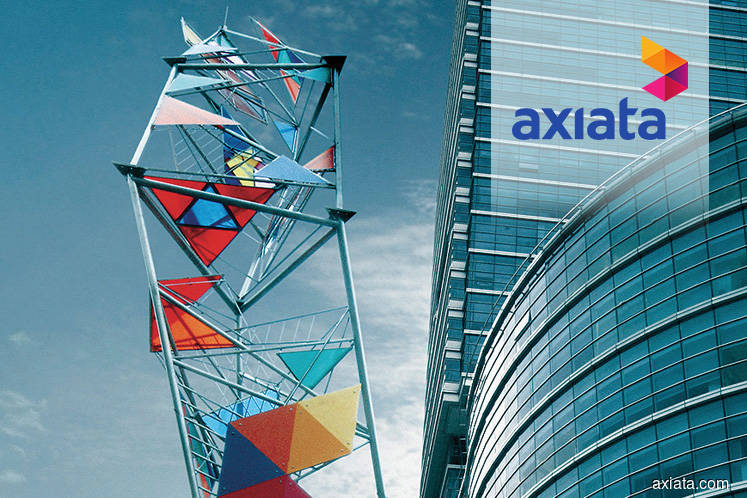 KUALA LUMPUR (May 21): Axiata Group Bhd today said that it is withdrawing its headline key performance indicator (KPI) guidelines for financial year ending Dec 31, 2020 (FY2020) because of business uncertainties arising from the Covid-19 pandemic.
The move comes on the back of a 74% drop in Axiata's net profit for the first quarter (1Q) as exposure to forex swings took a toll on its performance.
In a bourse filing, Axiata said even though Covid-19 had limited impact on its latest quarterly results, the group is still monitoring the impact on the wider business fraternity in the region.
"Given the uncertainty surrounding the depth and duration of this pandemic and the difficulty in predicting the pace of recovery at this point, the group is withdrawing its guidance on 2020 headline KPIs."
Axiata's headline KPI targets, announced in February, aimed for 3.5% to 4.5% revenue growth for FY20, as well as earnings before interest, taxes, depreciation and amortisation (Ebitda) growth of 4% to 5.5%.
The latest results disappointed, as Axiata's net profit fell 74% for the quarter ended March 31, 2020 to RM188.11 million from RM725.17 million the year before, hit by a swing from net forex gains to losses, coupled with higher operating and finance costs, and taxes.
Earnings per share slumped to 2.1 sen, from eight sen in 1QFY19.
Forex losses also partly contributed to Axiata's Ebitda decline in its operations in Malaysia, Nepal and Sri Lanka, and in the case of Sri Lanka, despite registering a higher revenue.
"Apart from Indonesia and Cambodia, all other markets were impacted by stringent lockdown from mid-March, affecting sales and services at retail outlets, including prepaid reload, SIM activation and device sales," it said, adding in Nepal, there was further impact arising from mobile-to-fixed substitution.
Excluding forex swings, group operating profit fell 6.16% to RM1.16 billion from RM1.23 billion previously on higher operating costs despite higher top line — dragged by higher provisions, higher staff costs, and lower other operating income, which more than offset lower outpayment.
Revenue-wise, Axiata saw 1.46% growth for the quarter to RM6.04 billion from RM5.95 billion previously.
Geographically, the group saw solid top-line growth in Indonesia, followed by Bangladesh, Sri Lanka and Cambodia.
However, revenue from Malaysia (non-infrastructure) fell due to lower service revenue, while its Nepal operations saw revenue decline across almost all segments.
On the other hand, the Malaysian infrastructure business saw higher revenue and Ebitda, largely due to forex gains.
With the Covid-19 pandemic still developing, the group's current focus is on conserving cash via cost and capex management.
It is also building a "war chest" to tap into potential opportunities arising from the "new norm" triggered by the pandemic.
Axiata president and group chief executive officer Tan Sri Jamaludin Ibrahim said the group will continue to invest mainly in the 4G mobile network and Enterprise solutions now more than ever as economies worldwide attempt the Herculean task of bouncing back in the new normal.
"Total data traffic surged in all our markets, from 12% to 40% in March and the trend seems to continue.
"However, in most cases, because of the 'lifeline' support given to our customers in the form of free data usage, revenues in Malaysia and some markets were affected."
Notwithstanding the short-term challenges, Jamaludin said: "Bandwidth will become as critical as utilities, heightened demand will build up for solutions, tools, platforms and applications."
"From individuals to organisations, they are now firm believers in and adopters of digitisation with customers themselves already 'digitally accelerated'.
"We believe we will see the rise of the telco industry as one of the biggest winners in this new world. It would also be the engine of growth for the global economy."
On corporate developments, the group is on track to list its 68.69%-owned Bangladeshi subsidiary Robi Axiata Ltd in Bangladesh, having submitted an application to the Bangladesh Securities and Exchange Commission on March 2.
The group recorded gains of RM420.3 million from its ongoing telco tower sale in Indonesia in the quarter, compared with one-off gains of RM415.4 million in 1QFY19 on disposal of non-strategic investments.
Shares in Axiata fell four sen or 1.04% to RM3.82 soon after releasing its results, valuing the company at RM35.03 billion.