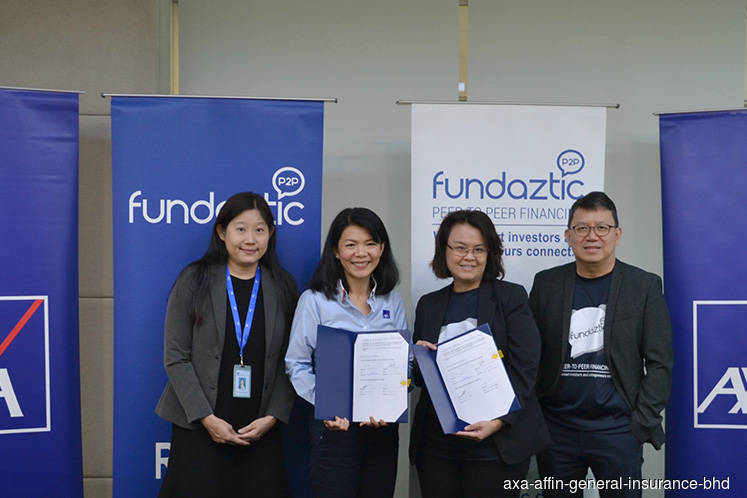 KUALA LUMPUR (March 27): To address the issues of lack of business protection and capital constraints among small and medium enterprises (SMEs), AXA Affin General Insurance Bhd (AAGI) has teamed up with Peoplender Sdn Bhd, which operates a peer-to-peer (P2P) financing platform known as "Fundaztic".
In a statement today, AAGI said it offers SMEs flexible, affordable and trade specific protection to ensure them business continuity and sustainability, while Fundaztic supports their business funding needs through P2P financing by connecting them to mass retail investors.
Citing Bank Negara Malaysia data, AAGI said SMEs are recognised as a critical component of the country's economy, contributing more than a third of gross domestic product and providing job opportunities to more than four million workers in Malaysia.
"However, there is still a huge gap of financing for micro and small SMEs due to the size of their funding needs, internal banking policies and inability to provide the necessary collaterals required by banks," said Fundaztic chief executive officer Kristine Ng.
"Funding is the key to drive growth and the lack of funding hampers the ability of many SMEs to scale their business," Ng added.
 
Fundaztic provides an online crowdfunding platform. According to AAGI, crowdfunding in Malaysia is expected to grow, following the introduction of regulatory frameworks for equity crowdfunding in 2015 and P2P financing in 2016.
"We know there are many underserved SMEs who are unprotected. They operate in a small or medium scale and do not usually take business protection as their priority," said AAGI chief marketing officer and bancassurance Rebecca Tan.
"At AXA, we believe in empowering SMEs and providing them with complete peace of mind in their business ventures. We have gained insights on the SME industry, [as well as] the insurance priority and mindsets of SME owners, to carefully identify their needs based on the specific trade they are operating in," Tan added.