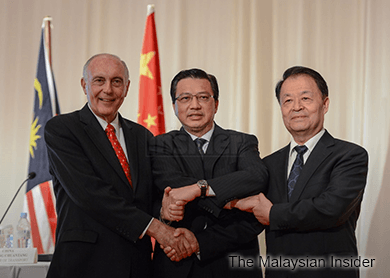 (April 16): Malaysia and Australia are expected to share AUS$50 million (RM141 million) cost of extending the search for MH370 aircraft if the plane is not found in the first 60,000 sq km search zone in the Indian Ocean.
Transport Minister Datuk Seri Liow Tiong Lai said the cost was much lower as the assets were already in place.
"We are however hopeful of find the plane within the first 60,000 sq km of the search area expected to be completed by end of May," he said today.
Malaysia and Australia has allocated AUS$120 million (RM340 million) for the first phase of the search. About 61% has been completed.
"We have collectively decided to extend to the highest probability area (for another 60,000 sq km), thereby covering the 95% of the highest probability area where the plane is expected to be found," Liow told a press conference after a tripartite ministerial meeting with Australia and China in Kuala Lumpur today.
Australian Deputy Prime Minister Warren Truss said it was essential for the families affected to find closure and understand what happened to MH370.
He said the second phase of the search will involve another 60,000 sq km and was an expansion of the current zone.
He added that the search might be "difficult" when winter comes.
The second phase will take until the end of the year to be completed.
Truss also dismissed the idea of finding the aircraft elsewhere as the information did not correlate with the satellite data.
Meanwhile, China's Transport Minister Yang Chuan Tang said the three countries will not let up in the search for the aircraft.
A day before the tripartite ministerial meeting took place, Voice 370, representing families of MH370 passengers and crew, appealed to the authorities and the three governments not to stop searching the aircraft.
MH370 carrying 239 passengers and crew disappeared from radar less than one hour after departing from Kuala Lumpur International Airport for Beijing on March 8 last year.
A multinational search was mounted involving more than 20 countries following the plane's disappearance but yielded nothing.
On January 29, the Malaysian government declared MH370 was lost in an accident, killing all on board. – The Malaysian Insider