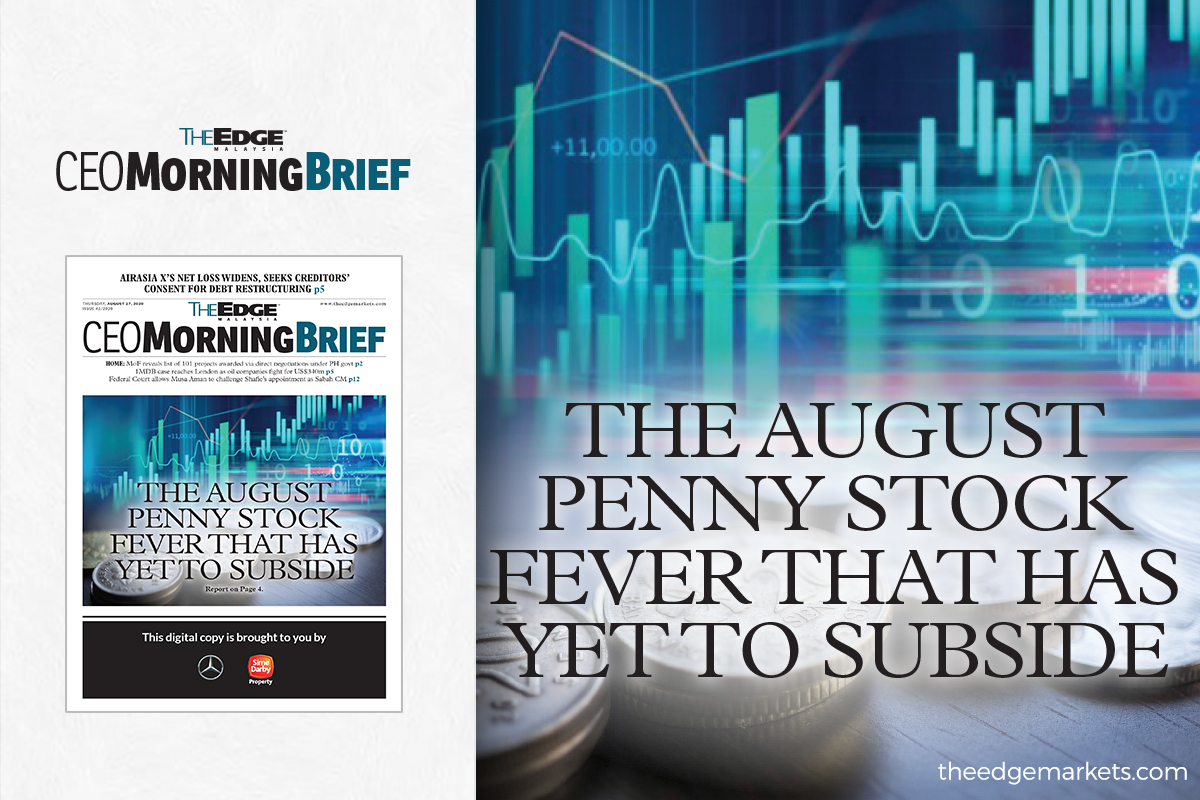 KUALA LUMPUR (Aug 27): If you are looking for gains in the Malaysian equity market right now, penny stocks may appear to be the best bet, though perhaps not for the right reasons.
While trading volume of shares across Bursa Malaysia has more than halved from its record-high of 27.8 billion two weeks ago, the speculation-driven penny stock fever that kicked-off in August has shown no signs of abating.
The Edge has compiled a list of 27 companies whose share prices have at least doubled since end-July — even loss-making ones — as investors turn to penny stocks in search of quick gains.
Of the 27, 15 counters came from a low base of 10 sen per share or below, and only one — Prestariang Bhd — started trading from above 50 sen per share this month.
The rally is apparently fundamentally unjustified. With the exception of Titijaya Land Bhd and newly listed Optimax Holdings Bhd, the rest have either been largely loss-making or have swung wildly from profit to loss in the past.
Two counters have jumped seven-fold in the period, namely Bintai Kinden Corp Bhd, which announced last Monday a potential partnership with a US vaccine research firm Nugenerex Immuno-Oncology (Generex) to develop a COVID-19 vaccine; and Solution Group Bhd, which has narrowed its losses last year.
Seven penny stocks hit limit-up at least once in the past month after jumping 30 sen a day, including loss-making bus company Gets Global Bhd (up 127.66% on Wednesday) and Bintai Kinden (up 74.07% on Tuesday)
The others are Optimax, which climbed 38.5 sen or 128.33% on its Bursa debut on Aug 18; Titijaya Land Bhd (up 65.22% on Aug 10); SMTrack Bhd (up 107.14% on Aug 10); Oversea Enterprise Bhd (up 95.24% on Aug 7); and Inix Technologies Holdings Bhd (up 145% on Aug 7).
While several did not hit limit-up, they still enjoyed massive single-day gains, namely Konsortium Transnasional Bhd (up 12.5 sen or 250% on Wednesday); Industronics Bhd (up 11.5 sen or 95.83% on Aug 19); Johan Holdings Bhd (up 12 sen or 92.31% on Aug 10), and Niche Capital Emas Holdings Bhd (up 11.5 sen or 100% on Aug 6).
Seven of them — namely AHB Holdings Bhd, MSCM Holdings Bhd, Turiya Bhd, Gets Global, Industronics, Oversea Enterprise, Titijaya Land, and SMTrack — have been slapped with unusual market activity (UMA) queries from Bursa Malaysia Securities Bhd.
In total, Bursa has issued UMA queries to 11 companies so far this month — up from six in July and four in June.
There are many other penny stocks that have skyrocketed this month and in July, but not featured in the list as their share prices have either retreated amid the rotational play by investors, or are still at their peak through August.
They include Brite-Tech Bhd, Inix Technologies Holdings Bhd, Mercury Industries Bhd, PDZ Holdings Bhd, Inix Technologies Holdings Bhd, Microlink Solutions Bhd and Focus Dynamics Group Bhd — all of which have also received UMA queries from Bursa Securities.
This month, the FBM ACE Index is up by a steep 31.06%, while the FBM Small Cap Index is up 5.59% in the same period.
On the other side of the market, big-cap companies are still not in favour.
The FBM Top 100 Index, which covers the 100 biggest companies on Bursa Malaysia by market capitalisation, has retreated by 2.28% — partly dragged by the 3.38% decline in the KLCI — which suggests risk-off behaviour among long-term investors amid current economic uncertainties.