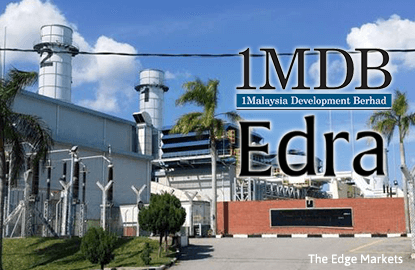 This article first appeared in Corporate, The Edge Malaysia Weekly, on May 23 - 29, 2016.
1MALAYSIA Development Bhd's (1MDB) FY2015 financials will not be filed anytime soon, but the accounts of Edra Global Energy Bhd, which it has already disposed of, have finally been published. And the accounts confirm concerns about 1MDB's operational finances.
Auditors Deloitte expressed uncertainty about the ability of 1MDB's only operating unit at the time, Edra, to continue as a going concern for the year ended March 31, 2015. This was mainly because Edra's short-term liabilities of RM6.83 billion then were RM1.87 billion higher than its asset value at the time, and the difference made up 84% of the cash generated from its operations that year.
Arul Kanda Kandasamy, president and group executive director of Edra's then parent, 1MDB, has always insisted that the solution to Edra's woes was an initial public offering (IPO). Edra's cash flow could not support the debts used to acquire it in the first place, putting a huge strain on 1MDB's already debt-laden balance sheet. But did 1MDB manage to put together a viable value proposition that could have been marketed as an IPO?
Edra's purchase of a 75% stake in Jimah Energy Ventures Sdn Bhd in January 2014 suggests this may not be the case, based on a closer look at the 140-page FY2015 accounts. Edra was burdened by mountainous debts with high interest rates.
But its major problem lay in the reason for aggressively borrowing in the first place — to buy existing power plants with a limited shelf life and progressively eroding returns. And, they were acquired at steep premiums.
The notes accompanying its FY2015 income statement show that goodwill from Jimah's group of companies was RM669.52 million — more than half of the RM1.23 billion cash Edra paid for its 75% stake. Edra made an impairment loss on goodwill of RM250 million in FY2015.
According to the accounts, Jimah had a total asset value of RM5.2 billion as at March 31, 2015, but its total liabilities came to RM5.32 billion, which brought its shareholders' funds to a negative RM213.45 million, after deducting RM88.33 million in non-controlling interests.
Jimah's two 700mw coal-fired power plants in Negeri Sembilan generated revenue of RM2.11 billion and an operating cash inflow of RM943.27 million. However, most of the cash flow went to paying its debts and interest, leaving Jimah with a net cash inflow of RM18.58 million.
This means it got to keep only 0.88% of the cash it generated from its operations.
Jimah is unique as a power asset because it was funded with exceptionally high levels of debt.
Jimah had junior Islamic debt with a carrying value of RM1.03 billion as at March 31, 2015. With a profit rate of 18.06%, the full payment would amount to RM5.03 billion upon maturity in November 2033 — with RM667.86 million due for payment by FY2016.
This debt paper was attached to Istisna medium-term notes with a carrying value of RM4.14 billion, which bore profit ranging from 7.7% to 9.85% per year and were repayable over a period of 18 months to 16.5 years from the drawdown date. These notes are set to mature in November 2024.
In a nutshell, Jimah was already highly geared and 1MDB made it worse by acquiring the company using more debt, in addition to paying a high premium of RM669.52 million.
1MDB's term loans secured to Jimah's assets and businesses had a total carrying value of RM678.81 million and interest rates that ranged from 5.33% to 6.72%. Most of the carrying value, RM600 million, was settled on April 9, 2015, using the advance from 1MDB and a related party.
Other than Jimah, 1MDB had also advanced RM2 billion to Edra to service a tranche of the RM6.17 syndicated bridging loan secured to Powertek Investment Holdings Sdn Bhd. Recall that this is the RM2 billion payment on which 1MDB missed several payment deadlines beginning in November 2014.
So, while Edra's total debts in FY2015 fell by RM3.89 billion or 25.28% to RM11.49 billion, the amount it owed to its parent was RM2.85 billion — and it was due to be repaid by FY2016.
In total, Edra had RM7.54 billion worth of debt repayment and payables due in FY2016. If the cash generated from operating activities in that year is the same as FY2015's RM2.06 billion, it would still be short of about RM5.5 billion to pay what it owes. In FY2015, its cash and bank balances were RM2.52 billion, down 22% from the previous year.
With this balance sheet, Edra had no financial muscle to undertake the 2x1,000mw coal-fired power plant, code-named Project 3B, which would have cost RM11 billion to build. It was Edra's only potential earnings upside and it had to be sold to Tenaga Nasional Bhd last July for a nominal sum of RM46.98 million.
All in all, Edra made a net loss of RM475.07 million on revenue of RM5.14 billion in FY2015, the first full year that Jimah's assets became part of the group's stable. The 33% year-on-year increase in its revenue did nothing to improve its bottom line, because Edra's FY2014 net loss was only RM60.3 million.
Despite Edra's appalling finances created by its debts, 1MDB managed to get RM9.83 billion for the energy company when it sold it to China General Nuclear Power Corp last November.
It will be interesting to see how CGNPC will now deal with Edra's large debt servicing commitments against its cash flow from operations.