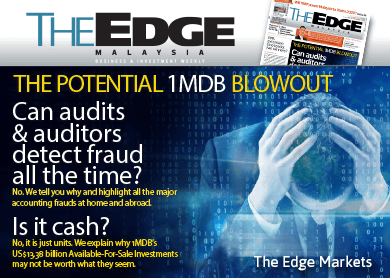 KUALA LUMPUR (May 23): Like a broken old record, 1Malaysia Development Bhd (1MDB) has repeatedly said its accounts have been signed off by international accounting firms KPMG and Deloitte, implying that everything should be hunky dory with its financials.
In the mean time, the state-owned strategic investment firm has firmly refused to respond to questions about various transactions and the movements of billions of ringgit, while warning critics to back off and let the Auditor-General Tan Sri Ambrin Buang complete his review on 1MDB's audit, as directed by Prime Minister Datuk Seri Najib Razak, who is also the chairman of 1MDB's board of advisors.
The Edge Malaysia (The Edge), in its latest cover story (May 25-May 31) titled 'The potential 1MDB blowout', pointed out, with clear examples of financial scandals that have happened in other firms around the world, that just because one's accounts have been signed off by auditors – no matter if it was one of the Big Four or not – does not mean that no fraud has been committed.
And no auditors in the world, said the weekly, would agree that their signing off an account means they confirm or guarantee that the accounts are completely true, accurate, and do not contain misstatements, be it from fraud or error.
The risk of fraud is also higher than those of error, it said, because fraud usually involves sophisticated and carefully crafted schemes designed to hide it.
From Deloitte's audit report that was issued to 1MDB on Nov 5, 2014 for the financial year ended March 31, 2014, The Edge picked several paragraphs in which the accounting firm had laid down what can perhaps be construed as disclaimers:
1) "The directors of the company are responsible for the preparation of these financial statements so as to give a true and fair view."
2) "The directors are also responsible for such internal control as the directors determine is necessary to enable the preparation of financial statements that are free from material misstatement, whether due to fraud or error."
Additionally, it noted that Deloitte's audit report had said: "Our (Deloitte) responsibility is to EXPRESS AN OPINION on these financial statements based on our audit ... and perform the audit to obtain REASONABLE assurance about whether the financial statements are free from material misstatement."
That reasonable assurance, said The Edge, is based on the external auditor trusting that the management and board of a company have carried out their fiduciary duties and were not involved in any fraud or have concealed any fraud.
All these statements send a very clear message: the directors of 1MDB are the ones ultimately responsible and accountable for the company's financials. They are also the ones who are responsible for internal controls to ensure there is no fraud and error.
In other words, the role of an auditor cannot be deemed as one that determines whether a fraud has or has not been committed, said The Edge. That responsibility, it said, lies squarely with the country's criminal and legal system.
It also stressed that the questions asked of 1MDB are mainly related to the effectiveness of internal controls and corporate governance, like who approved the firm's agreements and payments, why it overpaid for its power assets, Jho Low's role in its management decisions, why funds were diverted from what they were initially approved for, and more.
So what can the Auditor-General, who has merely been tasked to audit Deloitte's work and most likely have a similar mandate to Deloitte's, uncover?
The weekly further cautioned that there are many instances of corporate fraud that escaped the scrutiny of auditors, and that auditors were, in some cases, culpable, if not outright complicit in the fraud. The collapse of US Energy giant Enron – which subsequently led to the shutting down of Arthur Andersen, one of the Big Four then – was one example cited.
In the same cover story package, it went on to detail why 1MDB's RM13.38 billion 'available-for-sale investments' listed in its financial year ended March 31, 2014 audited accounts, may not be worth much.
Accounting-wise, these investment assets – which includes the now mysterious US$1.103 billion parked at BSI Singapore, which was last described as 'units' and not cash by Second Finance Minister Datuk Seri Ahmad Husni Hanadzlah – are classified as Level 3 assets – the lowest class of assets which are viewed as high risk and whose fair values are the hardest to authenticate.
1MDB's accounts clearly stated that the valuation ascribed to these investment assets was "derived from valuation techniques that include inputs for asset or liability that are not based on observable market data".
The weekly further examined that by reviewing one of the investment instruments 1MDB had put US$2.3 billion into — the Cayman registered Bridge Global Absolute Return Fund — a Segregated Portfolio Company (SPC) which is managed by Bridge Partners Investment Manager (Cayman) Ltd.
It said the SPC is a high-risk portfolio and investors were warned they could lose everything. It further detailed who the fund's administrator is, and more importantly, who are behind Bridge Partners, the fund's investment manager.
So the question now is this: if the RM13.38 billion investments are indeed worth as much, why doesn't 1MDB cash them in and bring those billions home, where they are much needed?
The Edge Malaysia is available at newsstands and on subscription. Pick up a copy today to find out more. 
P/S: It can also be downloaded from Apple's Newsstand and Androids' Google Play.