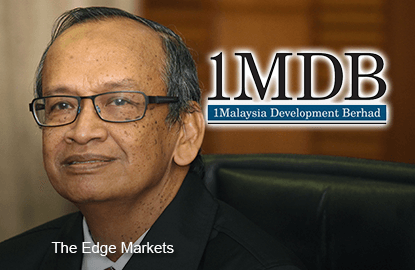 KUALA LUMPUR (July 9): The Auditor-General Tan Sri Ambrin Buang today handed over the highly-publicised interim report on the national sovereign fund 1Malaysia Development Bhd (1MDB) to the Public Accounts Committee (PAC).
Ambrin, who was accompanied by a 17-member entourage, handed over a stack of documents to Public Accounts Committee chairman Datuk Nur Jazlan Mohamed at Parliament building this morning.
The PAC committee, which comprises BN and opposition lawmakers, was also present in full force.
With the handing over, it signifies the committee can now start its proceedings on the report. It is understood that the committee will take at least one to two days on the proceedings, starting from today.
Although the interim report will not be made public, the findings from the report will be used by PAC in its proceedings on 1MDB.
The audit by the National Audit Department on 1MDB is still ongoing, with a final report to be handed over to the PAC at the soonest date this year.
Only the final report will be tabled to Parliament and will be made public.
To recap, the National Audit Department of Malaysia announced that the interim report on the controversial 1MDB has been completed as scheduled for the end of June.
The interim report is based on the results of an audit conducted between March 10 and June 15 this year.
In March this year, Prime Minister Datuk Seri Najib Razak had ordered the AG to "independently verify" 1MDB's financial accounts, following allegations directed at the company over transactions undertaken by third parties, such as PetroSaudi International.
The PAC will examine the AG's report and "if any wrongdoing is proven, the law will be enforced without exception," said Najib, who is chairman of 1MDB's board of advisers.
Najib had added that 1MDB's relevant investments have been returned in full, with significant audited profit.
The prime minister's request for the AG to verify 1MDB's accounts, also came after the Cabinet had expressed confidence that no wrong-doing had been committed within 1MDB, and their desire for the company to be allowed to implement the proposed outcomes of its strategic review, following a briefing by 1MDB executives and its auditors Deloitte.