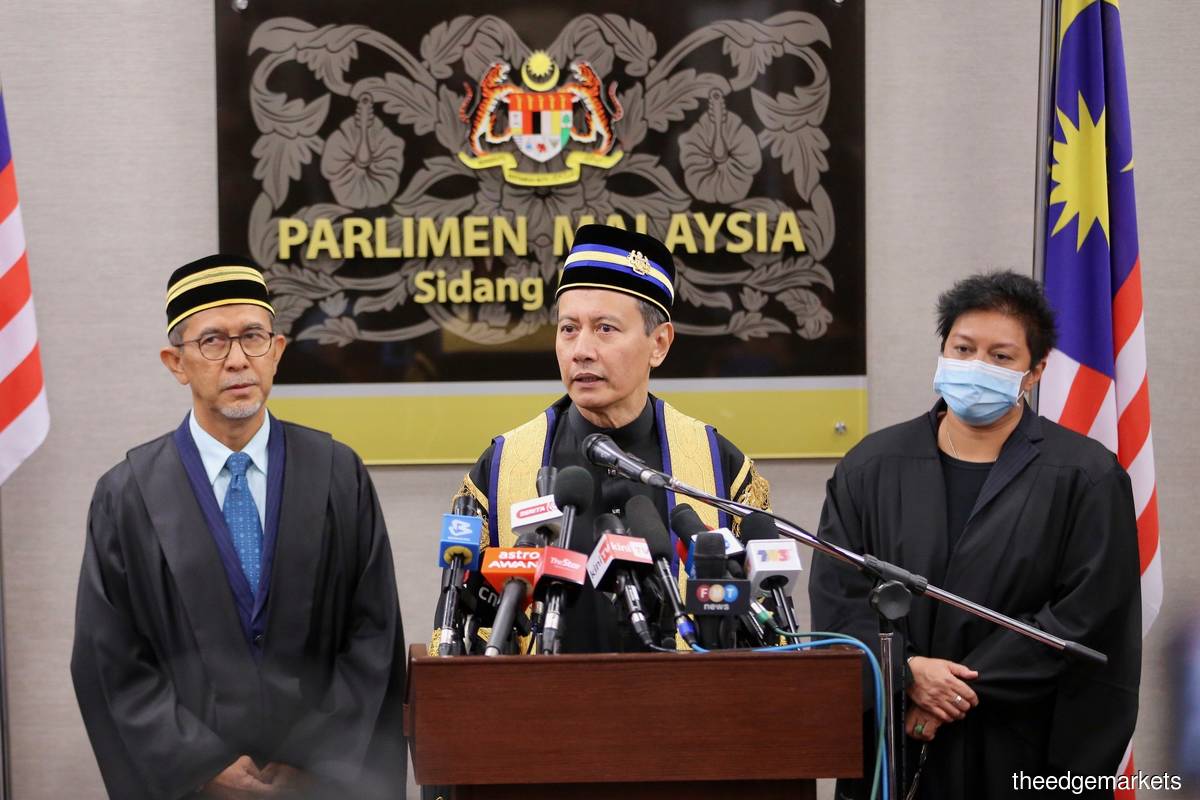 KUALA LUMPUR (July 22): Dewan Rakyat Speaker Datuk Azhar Azizan Harun said the controversial audio recording, which was about to be played by a Member of Parliament (MP) during the sitting, did not meet the best evidence rule, in explaining Deputy Speaker Datuk Seri Azalina Othman Said's ruling yesterday.
This issue was brought up by SN Rayer (PH-Jelutong), who told the Speaker that this was previously done by the late Karpal Singh, then the Bukit Gelugor MP, who played an audio recording of a former Chief Justice of Malaysia in Parliament.
Azhar said he cannot revisit a ruling that had already been made by the Deputy Speaker, who presided over the sitting at the material time.
"It is not proper for me to make a ruling over another ruling that has already been made. According to the Standing Orders, if a ruling is made, it is final," he said.
Meanwhile, Rayer said that there is nothing in the Standing Orders that prevents the playing of an audio recording during the sitting, and questioned the ruling made by Azalina.
However, the Speaker said there is an order that prohibits the presentation of reports in newspapers and magazines in order to elicit the truth.
"I think the Deputy Speaker's opinion is that the audio may not be the original audio and does not meet the best evidence rule. That is what I think.
"Anything that is raised in Dewan Rakyat has to abide by the relevant evidence laws before it can be brought up in Parliament. We must raise facts and not speculation," Azhar said.
In a statement earlier today, Minister in the Prime Minister's Department Datuk Takiyuddin Hassan said that there is no record of the late Karpal playing any form of video or audio in relation to bribery allegations of a former Chief Justice in Dewan Rakyat. 
Takiyuddin said the claim made by Ramkarpal Singh (PH-Bukit Gelugor) yesterday that audio recordings had been allowed to be played in Parliament are "baseless" and in contravention with the Standing Orders.
"In the interest of fairness and giving him the benefit of the doubt, YB Bukit Gelugor is given a chance to prove his claim before the end of today's Parliament sitting," said the minister, adding that the MP could be referred to the Rights and Privileges Committee if he fails to do so.
For more Parliament stories, click here.