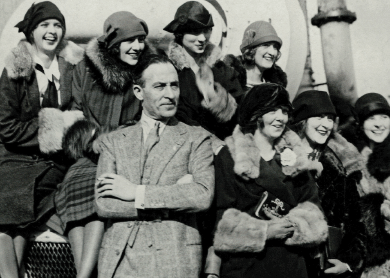 AN auction of items retracing the life of designer Patou with some of his models. The legendary designer also created fragrances.  (1887-1936) will take place at the Hôtel Drouot in Paris on May 22, organised by auction house Pierre Bergé & Associates. The auction was entrusted to Pierre Bergé & Associates by the designer's heirs.
There will be more in the spotlight at this auction than Jean Patou's work in couture and perfume. His passion for literature, and writing in general, as well as for the furniture of Süe et Mare, with whom he enjoyed a privileged relationship, will also feature prominently.
Iconic couture
The auction will obviously highlight Jean Patou's couture and ready-to-wear creations, especially those from the Golden Twenties. In all, about 50 models will be presented, with an emphasis on evening gowns, creations inspired by the designer's travels and sportswear.
Among the pieces expected to garner the most attention will be the "Black and White" evening gown, the Oriental inspired "Nuit de Chine" dress in satin and silk tulle embroidered with rose coloured glass pearls and metallic strings, and an entire golfing outfit that was worn by the designer's sister, Madeleine Barbas Patou.
A taste for perfume
Jean Patou also had a veritable passion for perfume and successfully diversified into that domain. It's not surprising then to find the house's signature olfactory creations up for auction.
Aficionados will be able to bid on perfume bars made of red sandalwood, containing several bottles, but also on legendary perfumes like Joy, the house's signature fragrance, Colony, in its pineapple-shaped bottle, and Normandie, an homage to the ocean liner of the same name.
Furniture and writings
A book lover, especially of literature and the history of textiles, Jean Patou amassed an impressive library over the course of his life. The auction will feature many of these writings, including letters exchanged by La Fayette and his brother-in-law, the Viscount of Noailles, and letters between Gustave Flaubert and Marcel Proust.
Süe et Mare furniture will also be offered. The two interior designers were responsible for decorating the Jean Patou fashion house in 1922 as well as his private residence in 1923. Pieces from both of these two iconic locations will be up for auction. — AFP
This article first appeared in The Edge Financial Daily, on April 28, 2015.