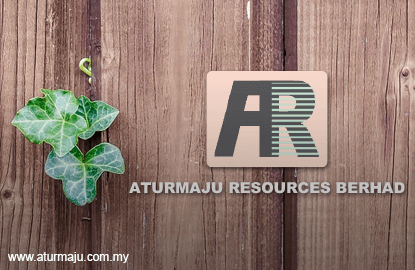 KUALA LUMPUR (March 17): Aturmaju Resources Bhd (Aturmaju), whose share price hit an all time high of RM1.55 today as of midday trading break, was slapped with an unusual market activity (UMA) query by Bursa Malaysia over the share price rally.
This was the second UMA that the wood products manufacturer received over the past three weeks. It was slapped with the UMA by Bursa on Feb 23.
Aturmaju's share price has been on the rise since the first trading day of the year. The stock has gained nearly 159% to RM1.55, from 60 sen a piece, outperforming FBM KLCI's 5.18% year-to-date decline.
Some 8 million shares were crossed between RM1.52 and RM1.55.
In the UMA query today, the regulator inquired whether the company has any corporate development or rumours that have not been previously announced, that may account for the trading activity, including those at the stage of negotiation or discussion.
Aturmaju is required to respond to the query, after making due inquiry with its directors, major shareholders and such other relevant persons.
It is also required to disclose any rumours or any other possible explanation to account for the trading activity.
For the fourth quarter ended Dec 31, 2015 (4QFY15), Aturmaju narrowed its net loss to RM666,000, from RM7.4 million a year earlier, despite revenue having fallen 16.8% to RM4.41 million, from RM5.3 million in 4QFY14.
For the full year (FY15), its net loss was improved to RM836,000, from RM10.78 million; while revenue climbed 4.5% to RM28.83 million, from RM27.61 million in FY14.