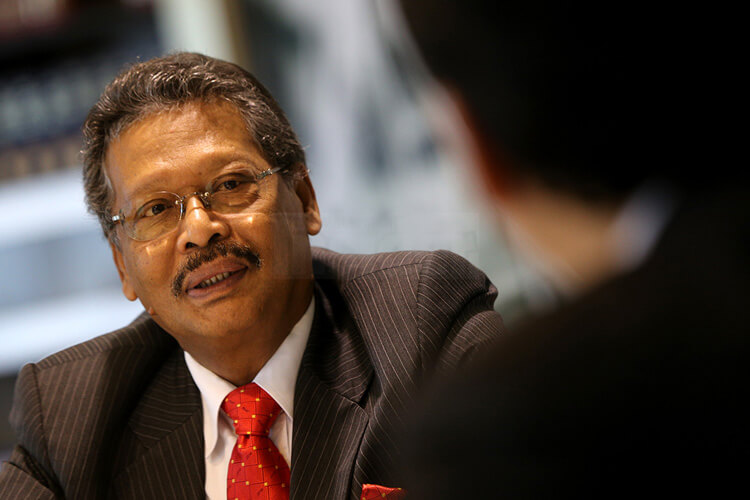 KUALA LUMPUR (June 16): The Attorney-General's Chambers (AGC) is, yet again, frustrated with United States Department of Justice (DoJ) for not informing the former of the second filing of a civil action against 1Malaysia Development Bhd (1MDB).
"This second action comes on the anniversary of the first, and appears to be a repeat of it. We would like to express frustration that yet again AGC was not informed or alerted by DoJ of this action," said Attorney-General Tan Sri Mohamed Apandi Ali.
While taking note of the latest civil lawsuit, the AGC said it has yet to receive any request from DoJ for information or evidence but welcomed any request by DoJ in its commitment to international cooperation and fight against money laundering.
Mohamed Apandi also expressed strong concerns at the insinuations made against the Prime Minister of criminal wrongdoing.
"At no point in the civil claims is the Prime Minister named as a defendant or has been alleged to have committed any wrong doing," he said in a statement today.
The DoJ filed a second lawsuit on June 7 against state fund 1MDB as part of the effort to seize about US$1 billion worth of assets linked to the fund, Reuters wrote.
In July last year, DoJ's lawsuits alleged that US$3.5 billion was misappropriated from 1MDB to purchase assets including properties and artwork, Reuters added.
The latest suit states that about US$4.5 billion was allegedly misappropriated from 1MDB and has the initials MO1 peppered throughout the documents.
DoJ aims to seize US$1.7 billion in assets including movie rights, jewellery, a yacht, and a fitness centre chain, allegedly purchased using 1MDB funds.
Last year, Minister in the Prime Minister's Department Datuk Seri Abdul Rahman Dahlan confirmed that MO1 is Datuk Seri Najib Razak.
Mohamed Apandi said there has been no evidence from any investigation conducted by any law enforcement agencies in various jurisdictions that shows that money has been misappropriated from 1MDB.
And that there have been no criminal charges against any individuals for misappropriation of funds from 1MDB.
"1MDB is a Malaysian company and has been the subject of multiple investigations within Malaysia including by the Malaysian Anti-Corruption Commission, Auditor-General and bi-partisan Public Accounts Committee.
"After review, we found that no crime was committed. Presently there is still an ongoing investigation conducted by the Royal Malaysia Police concerning 1MDB," he added.
"As I have promised before, the chambers will not hesitate to initiate proceedings against the perpetrators of criminal acts provided there is sufficient evidence to do so.
"Any wrongdoing will be punished and Malaysia will always uphold the rule of law," he reiterated.