This article first appeared in The Edge Malaysia Weekly, on April 26, 2021 - May 02, 2021.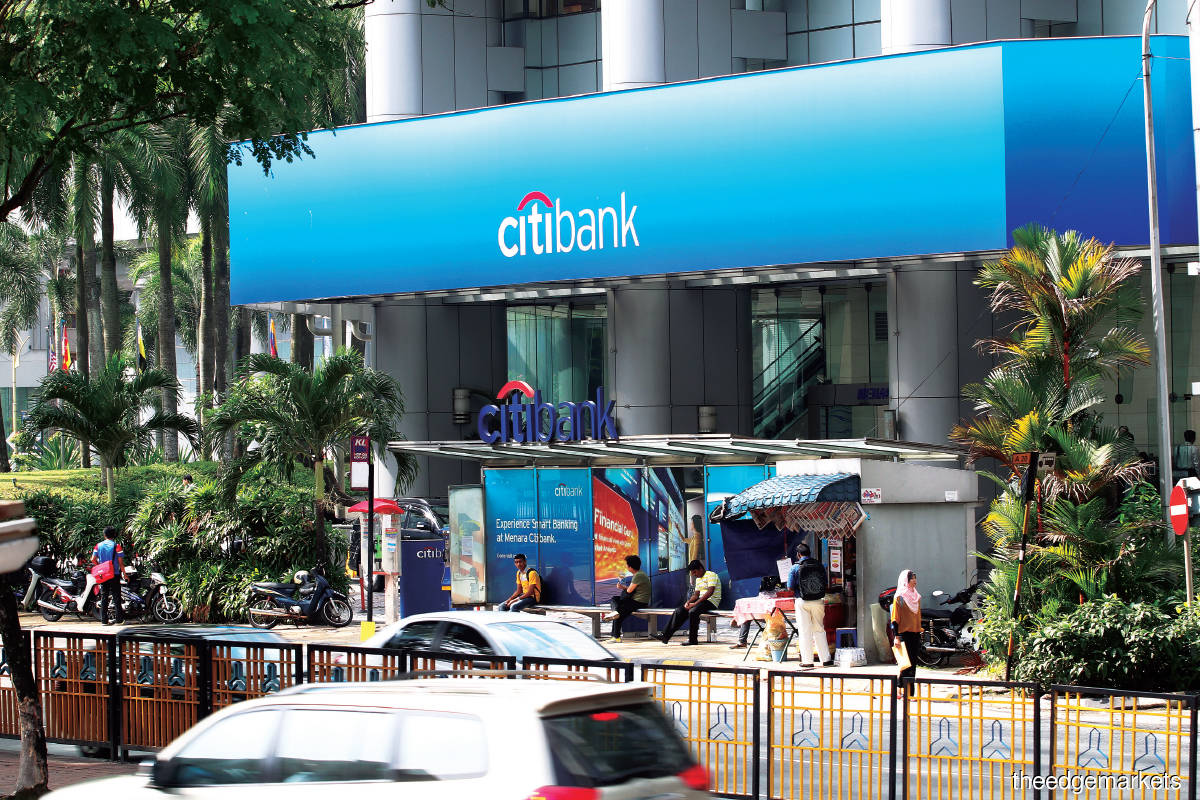 AFTER a long lull, there is once again the prospect of M&A in the local banking sector, triggered by US-based Citigroup Inc's (Citi) decision to exit consumer banking in Malaysia, alongside 12 other markets in Asia and the Middle East.
It is still early days since Citi's April 15 announcement, but a casual check by The Edge indicates that several local and foreign banks in Malaysia are keen for more detailed information on Citibank Bhd's consumer business with a view to potentially acquiring it.
"We are keen but it is subject to many things, including valuation and people [strength]," one bank CEO tells The Edge.
Citibank's consumer business is made up mainly of housing loans and credit cards.
Based on its latest unaudited financial statements for the third quarter ended Sept 30, 2020, the size of Citibank's total loan book — not just consumer loans — was RM20.08 billion, with the two biggest segments being housing loans (RM9.07 billion) and credit card receivables (RM5.35 billion). The two make up close to 70% of its total loan book. It is learnt that the bulk, or more than RM8 billion, of the housing loans are residential loans.
For perspective, a mid-sized local lender such as RHB Bank Bhd had RM64.53 billion in housing loans and about RM2 billion of credit card receivables in the same period.
"[Citi's consumer business] is not so big that it would move the needle for any of the large local banks such as Maybank, but maybe for some of the smaller banks, such as Alliance Bank or Affin Bank, and the foreign banks here such as OCBC, HSBC and Standard Chartered Bank, it does give them an immediate lift on the credit card side. So, they might be interested," a banking analyst observes.
Citibank is among the top credit card players in Malaysia. It is not clear how big its card base is currently, but it had a market share of 15% in terms of receivables as at end-September 2020.
Its market share has dwindled from 19% as at end-2010, as local banks such as Maybank gained share over the years in the highly competitive market, where frequent promotions and waiver of annual fees are needed to attract and retain customers.
Nevertheless, industry sources say Citibank derives high fee income from cards. Card fees accounted for a fifth of its total operating income in 9MFY2020.
"In the cards business, it's very important to have scale. Any small bank acquiring the business would immediately get to scale up. But you cannot discount a big player like Maybank being interested either, as it may want to cement its position. So, really, it all boils down to the pricing," says an analyst. Maybank's credit card receivables stood at RM8.66 billion as at end-2020, but the figure includes those from its regional markets.
Pricing will be key, a banker concurs. "There's no point in paying for the portfolio if you end up being unable to retain the cardholders," the banker says.
It is difficult to get a sense of the potential pricing as there is no recent benchmark, analysts say. There has been no case in recent history of a bank exiting only its consumer operations in Malaysia. The last whole-bank M&A in Malaysia was in late 2017, when Malaysia Building Society Bhd agreed to buy Asian Finance Bank Bhd.
Citibank made a profit before tax of RM519.34 million in 9MFY2020 compared with RM887.33 million in the same period a year earlier.
It is not clear yet how Citi plans to approach the sale of its consumer banking business in Malaysia or the other markets.
"So many options are possible. They may prefer to sell the regional portfolio as one [to one buyer] … but that could prove to be complicated for some markets," an analyst says.
Apart from Malaysia, Citi is exit­ing consumer banking in Australia, Bahrain, China, India, Indonesia, South Korea, the Philippines, Poland, Russia, Taiwan, Thailand and Vietnam. It will continue, however, with its institutional businesses in all these markets.
"While the … 13 markets have excellent businesses, we don't have the scale we need to compete," Citi CEO Jane Fraser said, in explaining her decision. The move was part of a strategic review of Citi's business since Fraser took the bank's helm in March.
Citi could fetch as much as US$6 billion (RM24.7 billion) from the sale of the assets across the 13 markets, Bloomberg reported last Friday, citing sources familiar with the plan.
It said Citi told investors that those 13 markets contributed US$4.2 billion in revenue in 2020. That figure was chipped away, however, by operating expenses and provisions for credit losses, which left the combined units without a profit for the year.
Citi has undertaken similar moves in the past. In February 2016, it decided to exit its retail banking and credit card operations in Brazil, Argentina and Colombia in an effort to cut costs.
Earlier in February, UK-based HSBC Holdings plc confirmed that it would sell its struggling retail banking division in the US.
Still a place for consumer banks
Consumer banking is indeed an increasingly tough business and requires scale for one to be a meaningful player, says Shankar Kanabiran, a financial services advisory partner at EY Malaysia.
"So, if you are small and don't have that minimum scale that's required to run, then it becomes not cost-effective to serve the customer. You will constantly be trying to gain market share. But it's not easy against the bigger players, which have wider reach, deeper pockets and breadth of products," he tells The Edge.
There will continue to be a need for consumer banks, although the small ones may increasingly come under pressure as fintech firms gain market share and digital banks come into the picture. Bank Negara Malaysia will issue five digital bank licences next year.
Kanabiran says, however, that for the first five years at least, digital banks are not expected to pose a threat to incumbent banks, as they will be small and allowed to focus only the underserved and unserved markets.
"Consumer banking in Malaysia has good risk-adjusted net interest margins and can be profitable, but it is just a slow-growing business at the moment and one that needs scale," says Tushar Mohata, head of equity research at Nomura Malaysia.
Meanwhile, analysts and bankers that The Edge spoke to are doubtful that the sale of Citibank's consumer business  will spark further banking M&A in Malaysia. They point out that Citi's case is unique in that it is not giving up its banking licence in Malaysia, and is only selling a division of its business.
Some acknowledge that there are M&A possibilities with banks such as AMMB Holdings Bhd, whose substantial foreign shareholder ANZ is widely known to be wanting to exit, albeit not without fetching a good price. RHB Bank too is often seen as an M&A play and potentially a good partner for AMMB.
Any such M&A may not be immediate, however, as there are no major push factors.
"All the banks are so preoccupied with just trying to sustain themselves in this tough Covid-19 environment, it would probably be foolhardy for them to look at M&A right now when Bank Negara is scrutinising capital intensively," remarks one analyst.
At the end of the day, it all boils down to whether there are synergies to be derived, says Wong Yin Ching, co-head of financial institution ratings at RAM Rating Services Bhd.
"These days, banks have overlapping business lines, branch networks and even borrower segments. So, unless there is a big differentiation between the two banks' focus sectors, banks need to consider whether there are strong revenue synergies," she says.
"If they have to derive synergy from cost savings, then shareholders of the banks need to think hard about whether it is a compelling proposition, given that it may involve staff retrenchment, which could be sensitive in an economic slowdown. So, the key is whether an M&A is able to effectively capture revenue synergies."
See also 'Citi retail units seen fetching US$6 billion as sales kick off' — Page 26