This article first appeared in The Edge Malaysia Weekly, on October 17, 2022 - October 23, 2022.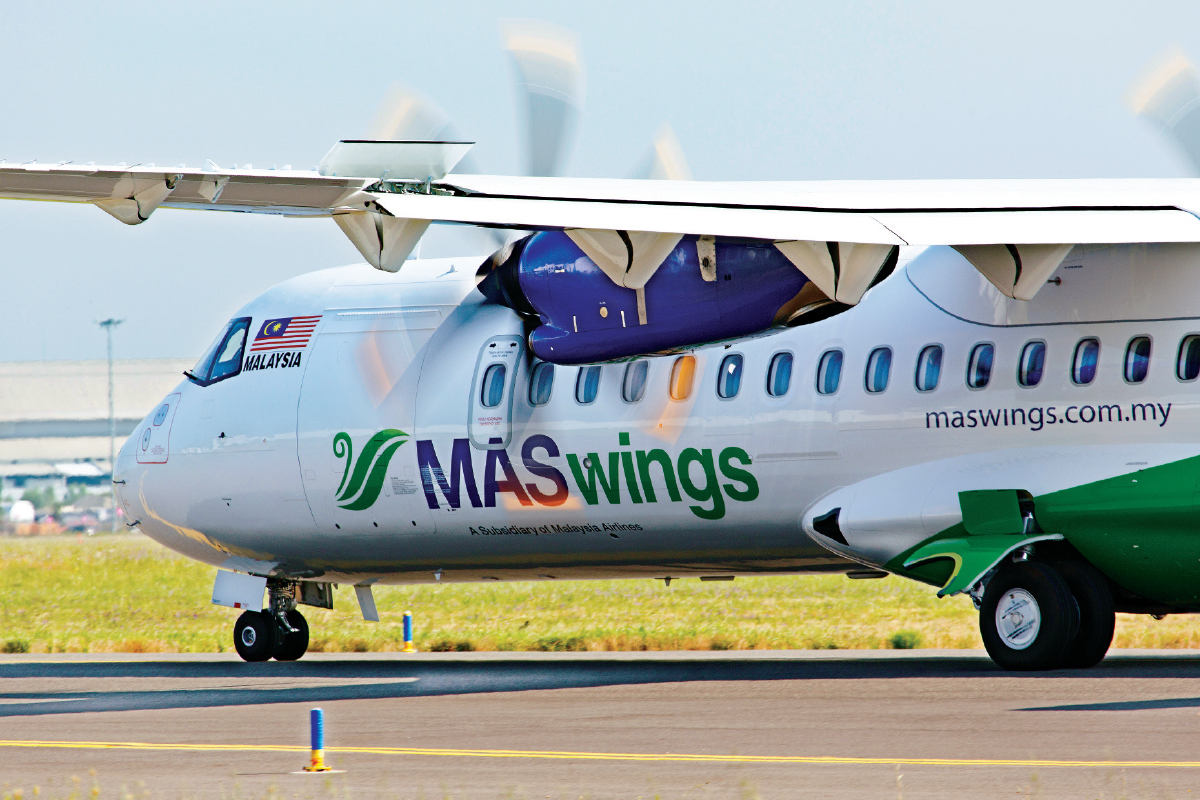 EUROPEAN turboprop manufacturer ATR is discussing with Malaysia Aviation Group Bhd's (MAG) wholly-owned subsidiaries — Flyfirefly Sdn Bhd and MASwings Sdn Bhd — and Batik Air, formerly Malindo Air, about replacing some of their ageing turboprops with next-generation aircraft.
"We are talking to all our [turboprop] operators in Malaysia. The biggest operator of the ATR here is MAG, but the turboprop planes in its fleet are the older generation ATR 72-500s, which are 12 to 14 years old. Clearly, there is an opportunity there for upgrades," ATR sales director Mavis Toh tells The Edge in an interview. ATR is a joint venture owned equally by Italy's Leonardo and Airbus, the European aerospace conglomerate.
To date, ATR has delivered about 30 aircraft to airlines in Malaysia, namely Firefly, MASwings, Batik Air and Berjaya Air Sdn Bhd. Firefly operates nine ATR 72-500s, while MASwings has 10. Batik Air has 13 ATR 72-600s.
With an ageing fleet, operators will have to plan for more maintenance downtime, which translates into cost, Toh says, adding that the plane maker is hopeful that airlines will invest in the more efficient ATR 42- and 72-600s, whose new engine — the Pratt & Whitney 127XT — is due to become standard on ATRs by the fourth quarter of this year.
"The 127XT engine offers 20% lower maintenance costs for the airline and a 3% improvement in fuel efficiency over the current engine. The aim when we develop an aircraft is to try to reduce the operating cost for the airline. The benefit can then be passed down from the airline to consumers in terms of lower ticket fares," she adds.
"Right now, our focus is to help operators regain [their operations] back to pre-pandemic levels. I see plenty of opportunities for the new ATR 42-600S short take-off and landing (STOL) variant to go into shorter airfields or island destinations."
This new STOL version of the ATR 42-600 is currently under development and is due to enter into service in early 2025. "This 40- to 50-seat aircraft can access runways as short as 800m, making it ideal for rural air service routes in Sabah and Sarawak that are currently being served by the smaller aircraft," says Toh.
According to MASwings' website, apart from the 10 64-seater ATR 72-500s, it operates six 19-seater DHC6 400 Series Twin-Otters.
Toh says the ATR 42-600S aircraft is expected to open up more markets for the plane maker as current ATRs require a runway length of 1,050m. "Our market research shows that close to 500 airports worldwide have a runway whose length extends between 800m and 1,000m. We see an opportunity to enter into this segment with our ATR 42-600S."
She notes that in Malaysia, the ATR 42-600S would allow airlines to serve the country's outlying islands such as Tioman, which has a runway of about 900m. "Right now, it is only served by a 19-seater turboprop. Also, in Sabah and Sarawak, there are quite a sizeable number of routes that are operated by the 19-seater turboprop. So having a 30- to 50-seater aircraft like the ATR 42-600S, we believe this will help these markets to grow.
"We also see opportunities [for ATRs] in Peninsular Malaysia to support the Indonesia-Malaysia-Thailand Growth Triangle (IMT-GT) and Sabah and Sarawak under the Brunei-Indonesia-Malaysia-Philippines East Asean Growth Area (BIMP-EAGA). We have done analysis to see where the ATRs can fly to support these two regions. That's also where we see a lot of opportunities for growth in terms of traffic and more aircraft being used," she adds.
The plane maker has also started discussions with Malaysia's latest commercial carrier SKS Airways Sdn Bhd to sell ATRs, according to Toh.
SKS Airways, which started in early 2022 by flying to Pangkor Island, then Redang Island, has in May begun flights to Tioman Island. Operating with a fleet of two DHC6-300 Twin Otter aircraft, it is focusing on island destinations that have short runways.
Toh also says turboprops play an important role in new route creation.
"Because of the low operating cost of our products, airlines can use them to try to launch a new route and if it doesn't work, they can easily pull out of the route. Thus, we are not always trying to compete [with other aircraft manufacturers] in the same space and hoping to get half of that market that is already being served.
"Rather, it is about providing connections to places that are not connected," she explains, noting that every year, more than 150 new routes are launched globally with the ATRs.
"With the ATRs, they go into the smaller markets and that's where we shine. We are not going to compete with the large aircraft on major routes," she adds.
Toh says operators of ATRs have emerged largely unscathed from the Covid-19 pandemic compared with their larger peers that rely on international flights, as they provide essential services.
"For ATR, about 85% of our routes globally are domestic. More than 40% of our aircraft are serving essential services like MASwings. This means that during the pandemic, there was still a need to keep some of these operations going.
"Globally, we (ATR market) have recovered to about 80% of pre-pandemic levels. In Asia-Pacific, we are seeing recovery coming out of the Philippines quite quickly, but New Zealand and India are leading the recovery in ATRs," she notes.
Asia-Pacific (excluding China) is ATR's largest global market, with close to 500 aircraft delivered, while Indonesia's Wings Air is its largest customer, with over 100 ATRs in its fleet.
The turboprop demand in Asia-Pacific is expected to remain the highest in the coming 20 years, according to ATR's turboprop market forecast 2022-2041 report. It estimates that the Asia-Pacific turboprop market will grow by 975 aircraft in that period, most of which will be from the replacement of the current aged fleet.
"We also see strong growth in the freight segment, driven by e-commerce. Most of the time, the turboprop freighters that you see are actually passenger-to-freighter conversions. However, we saw the demand for brand new freighters and FedEx Express was our launch customer for our new purpose-built regional freighter called ATR 72-600F. It has ordered 30 ATR 72-600Fs, plus 20 options," she adds.