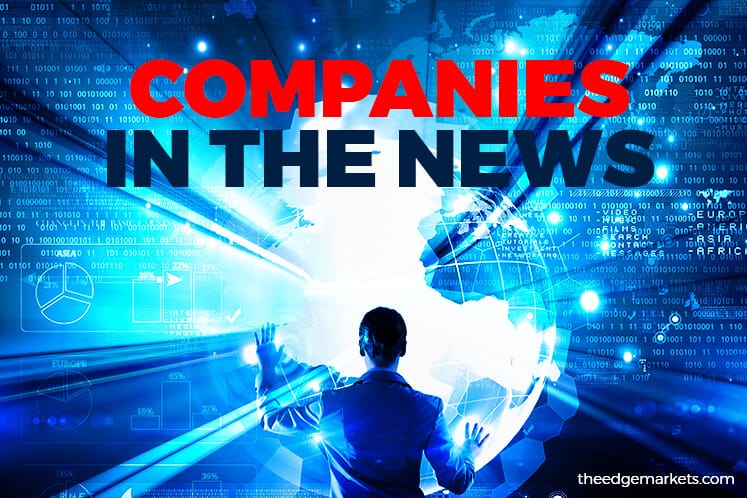 KUALA LUMPUR (July 9): Based on corporate announcements and news flow today, stocks that will draw some attention on Tuesday (July 10) may include: Atlan Holdings, Rohas Tecnic, N2N Connect, Adventa, Top Glove, Versatile Creative, LPI Capital and Econpile.
Atlan Holdings Bhd's 74.58%-owned subsidiary Duty Free International Ltd (DFIL) is investing US$2.8 million for a 70% stake in Brand Connect Holding Pte Ltd's enlarged share capital to develop and grow the group's alcohol distribution business and expand its market ops into Southeast Asia.
Atlan said DFIL has today entered into a conditional agreement with Brand Connect and founders Robert Justin Frizelle and Meridian Compass Ltd, which will see DFIL subscribing for 2.8 million new shares in Brand Connect.
Rohas Tecnic Bhd has bagged a joint venture (JV) contract for the reconductoring of three existing transmission lines for a combination of US$7.52 million and 157.73 million Bangladeshi Taka (about RM37.8 million).
Rohas said a JV between its 75%-owned unit HG Power Transmission Sdn Bhd and Apar Industries Bhd had on July 8 accepted the contract from Power Grid Co of Bangladesh Ltd.
The contract is for the "design, supply, installation, testing and commissioning of reconductoring of the three existing 132 kilovolt (KV) transmission lines". The job is to be completed in 15 months, the filing said.
N2N Connect Bhd has paid RM5.32 million in additional income tax and penalty for the years of assessment 2012 to 2016 to the Inland Revenue Board. The amount was paid by the group and its wholly-owned subsidiary N2N Global Solutions Sdn Bhd, after the two entities were slapped with an additional tax of RM3.67 million and RM1.65 million in penalty.
Adventa Bhd has postponed its proposed three-for-five rights issue, which sought to raise RM50.42 million, amid the ongoing legal proceedings between its managing director Low Chin Guan and Top Glove Corp Bhd, after Lim — a major shareholder in Adventa — informed the company he was not in a position to provide an undertaking in relation to the rights issue due to the legal case.
Adventa's board also clarified that Adventa and its subsidiaries are not involved in the legal proceedings between Low and other parties.
Separately, Top Glove told Bursa Malaysia its legal suit against Adventa Capital Pvt Ltd stemmed from its discovery that all is not as it appeared at its newly acquired surgical glove manufacturing company Aspion Sdn Bhd.
Following an investigation into the new subsidiary and investigation by an independent accounting firm, it has discovered that there was an overstatement of inventory, plant and machinery in Aspion's accounts amounting to RM74.4 million, while the acquisition price of Aspion was found to have been overstated by RM640.5 million.
These discoveries, it said, were what led to its claim of RM714.9 million — which consists of the overstatement and overvaluation — in its lawsuit against Adventa Capital, as well as Low and Wong Chin Toh, who are both directors in Aspion.
Andy Yap Jee Wye, who was recently appointed as the group's acting chief financial controller following the discovery of "unauthorised payments" made by the company, has resigned from his position as an executive director of plastic packaging manufacturer Versatile Creative Bhd because of "personal reasons". The resignation took effect on Sunday (July 8).
Competition in the Malaysian general insurance industry has resulted in a lower profit margin for LPI Capital Bhd, which saw its net profit slip by 3.4% to RM65.74 million for the second financial quarter ended June 30, 2018 (2QFY18) from RM68.06 million in 2QFY17.
This resulted in lower earnings per share for the current quarter under review of 16.5 sen compared with 17.09 sen in 2QFY17.
LPI recorded revenue of RM353.05 million in 2QFY18, which was marginally higher than its 2QFY17 revenue of RM352.71 million. The group declared a first interim dividend of 26 sen per share, payable on Aug 1.
For the first half of its financial year ended June 30, 2018 (1HFY18), LPI reported a slightly lower net profit of RM138.24 million compared with RM138.63 million a year ago. Revenue for 1HFY18 grew by 4.8% to RM734.05 million from RM700.35 million in 1HFY17.
Piling and foundation specialist Econpile Holdings Bhd has bagged a RM122 million contract to undertake working bored piles for the proposed Pavilion Damansara Heights (Parcel 2) mixed development at Jalan Damanlela here.
The latest contract represents the group's second contract win for Phase 2 of the project, having secured a RM18 million contract for contiguous bored piling in September last year. It was also awarded a RM570.1 million contract to undertake bored piling and substructure works for Phase 1 in February 2017.
Econpile said its wholly-owned subsidiary Econpile (M) Sdn Bhd had on Friday (July 6) received a letter of award from Jendela Mayang Sdn Bhd to undertake construction and completion of the working bored piles.
The overall duration of the contract is 13 months.