This article first appeared in The Edge Financial Daily, on January 10, 2019.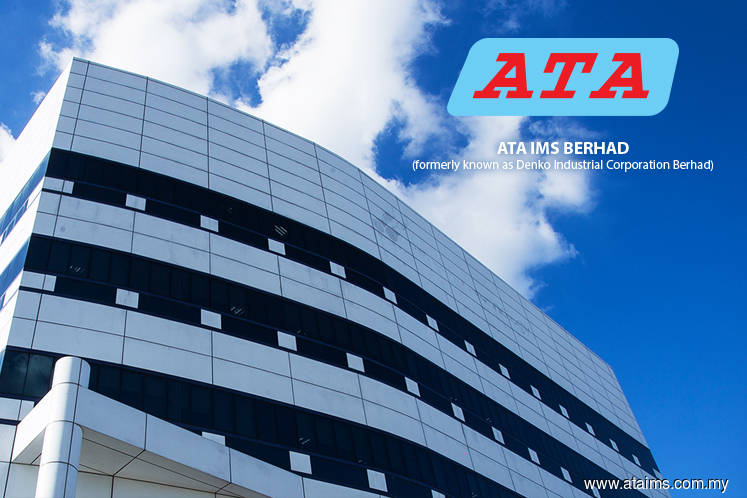 ATA IMS Bhd
(Jan 9, RM1.70)
Maintain buy with an unchanged target price of RM2: Our positive conviction in ATA IMS Bhd is reaffirmed post-discussion with management, premised on its robust earnings prospects (which will anchor a two-year core net profit compound annual growth rate [CAGR] of 33%) alongside its state-of-the-art manufacturing capabilities that are defending its turf as the preferred electronics manufacturing service (EMS) partner of its key customer.
 
Its accredited International Organization for Standardization (ISO) related to the automobile industry is also another impetus helping the group in winning automobile-related contracts in the future.
Ever since a much lower order guidance came from ATA IMS's peer which shares the same key customer, its share price has also gone through a roller-coaster ride in a span of just a month. At this price which implies 12.3 times forecast financial year 2020 (FY20F) price-earnings ratio (PER), ATA IMS is still trading at -1 standard deviation (SD) below its one-year mean PER for FY20F, all against the backdrop of pent-up orders, solid earnings visibility and advance manufacturing capabilities.
Valuation-wise, while its forward PER appears to be a notch higher than the peers' average forward PER of 10.2 times, the price-earnings to growth (PEG) ratio of 0.7 times (which captures forward-looking growth rate) is in fact at a slight discount to industry peers' forward PEG of 0.8 times, thanks to its aggressive expansionary plan and robust orders volume.
We expect second half (2HFY19) net profit to register in the region of around RM70 million (+21% half-on-half). Although ATA IMS reported a 1HFY19 net profit of RM58 million (+25.0% year-on-year) which only made up 45%/47% of our and consensus expectations respectively, we are unperturbed with the sluggish performance as we understand that the earnings glitch was due to the change of production schedule (initially to start in June 18) for its new product.
Production of this new product commenced in end-Sept 2018, which we believe will lend further strength to its seasonally stronger 3QFY19 (with results to be released next month).
Meanwhile, our latest discussion with management reveals that the existing orders are still resilient. Beyond that, there are also possibilities of further upside from the pent-up orders grabbed from other peers, which we have yet to factor into our earnings. All in all, our FY19F net profit of RM128 million is intact.
ATA IMS has acquired two parcels of land with buildings in Jalan Hasil and Japan Dewani, Johor Baru, with a combined production floor space of 375,922 sq ft as part of its latest expansionary plan.
With these new additions, there will be a total of 25 facilities with close to one million sq ft production space. Capacity-wise, the group has earmarked capital expenditure of RM100 million in 2019 for additional 55 plastic injection machines (to 110 machines) and four more final assembly lines (to 12 lines), to cater to at least two new products. While management is keeping its lips sealed on the products' specifications, we believe the focus would still be electrical appliances with enhanced functions. All in all, this will anchor a two-year core net profit CAGR of 33%.
ATA IMS has been consistently enhancing its manufacturing capability vertically, with the latest being the additional lines of surface mounting technology (SMT).
The group is running four SMT lines (for printed circuit board assembly [PCBA] and battery pack) on the private side, with an eventual target of at least 10 lines by end-2019.
We understand that there are also plans to consolidate these services at the group level in two years' time, which we believe should see further margin enhancement on a higher level of vertical integration (post-consolidation) judging from other EMS players with in-house PCBA capabilities.
Based on our sensitivity analysis, assuming every 0.5 percentage point enhancement to the group's net profit margin in FY21, the percentage quantum of incremental net profit could be +10%. Note that the group also has the upper hand in clinching automobile-related contracts, vis-à-vis other contract manufacturers, thanks to its accredited ISO on quality specification for the automobile industry supply chain.
While higher product complexity typically yields lower margins, ATA IMS is switching to a higher automation process with aims to enhance efficiency and quality improvement to defend its turf.
While the minimum wage hike is also a potential margin dampener (given its >7,000 headcount), we understand that the group is actively engaging its key customer to pass on the additional labour cost, as it did in the past. — UOB Kay Hian, Jan 9