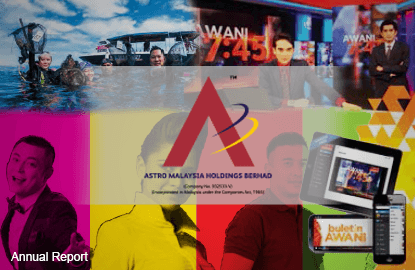 KUALA LUMPUR (March 22): Astro Malaysia Holdings Bhd's net profit jumped 45.58% year-on-year to RM203.77 million in its fourth quarter ended Jan 31, 2016 (4QFY16), from RM139.97 million a year ago.
The better net profit was mainly due to an increase in earnings before interest, tax, depreciation and amortisation (EBITDA) of RM27 million, lower net finance cost by RM30 million and an increase in the share of post-tax results from investment accounted for of RM12.9 million.
Revenue for the quarter under review grew 3.97% to RM1.4 billion, compared to RM1.35 billion in the corresponding quarter a year ago, mainly due to an increase in subscription, advertising and other revenue of RM7.8 million, RM24.8 million and RM21 million respectively.
In a filing to Bursa Malaysia today, it said the increase in subscription revenue is attributed to both an increase in average revenue per user for Pay-TV residential subscribers of RM0.30 (from RM99 to RM99.30) and an increase in the number of Pay-TV residential subscribers by 40,400 (from 3,509,600 to 3,550,000).
Astro declared the fourth interim single-tier dividend of 2.75 sen per ordinary share, which ex on April 4, payable on April 21.
The Board also recommended for shareholders' approval at a forthcoming annual general meeting a final single-tier dividend of one sen per ordinary share in respect of the financial year ended Jan 31, 2016, to be paid on a date to be determined. This will bring the total dividend for the financial year 2016 to 12 sen, translating into a dividend yield of 4%.
For the full year financial year ended Jan 31, 2016 (FY16), net profit increased by 18.47% to RM615.3 million from RM519.4 million a year ago, mainly because of an increase in EBITDA of RM132.3 million, lower depreciation of property, plant and equipment of RM66.4 million, and an increase in share of post-tax result from investment accounted for of RM14.9 million.
Revenue jumped 4.66% to RM5.48 billion in FY16, compared to RM5.23 billion last year.
The Group is focused on executing its key strategy of growing revenues by providing differentiated content and a diverse range of products and services in a soft consumer market.
"We maintain good visibility on our key operating expenses, in particular, content costs which are substantially USD denominated," it said in a filing to Bursa.
For FY17, The Board believes the Group will remain cash generative and be able to invest in its growth strategy.
Astro shares closed eight sen or 2.74% higher at RM3 for a market capitalisation of RM15.62 billion.