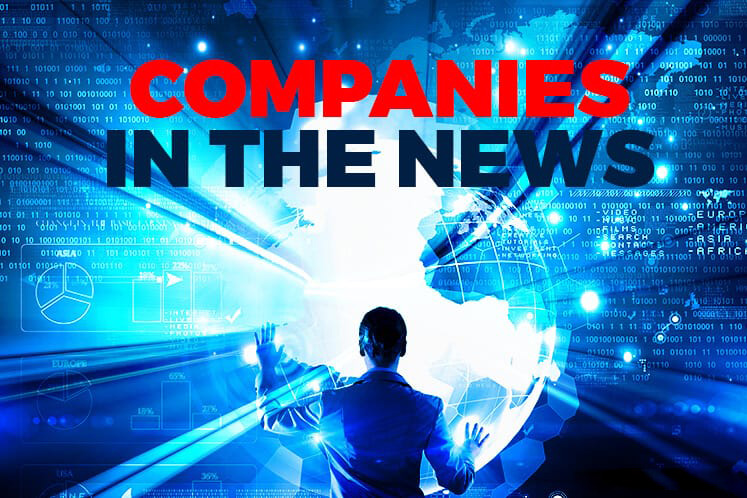 KUALA LUMPUR (Dec 6): Based on corporate announcements and news flow today, stocks in focus on Thursday (Dec 7) may include: Astro Malaysia Holdings Bhd, Scientex Bhd, Sapura Resources Bhd, Ranhill Holdings Bhd, 7-Eleven Malaysia Holdings Bhd, My E.G. Services Bhd, Acoustech Bhd, Nexgram Holdings Bhd, HCK Capital Group Bhd, Ajinomoto (Malaysia) Bhd, GD Express Carrier Bhd and Halex Holdings Bhd.
Astro Malaysia Holdings Bhd's third-quarter net profit slipped 2.9% year-on-year (y-o-y) due to lower earnings before interest, taxes, depreciation and amortisation (Ebitda).
Net profit fell to RM146.68 million in the three months ended Oct 31, 2017 (3QFY18) from RM151 million a year ago, while earnings per share was down at 2.81 sen in 3QFY18 from 2.9 sen in 3QFY17.
Quarterly revenue also fell by a marginal 1.9% to RM1.4 billion from RM1.42 billion in 3QFY17.
It declared a third interim dividend of three sen per share for the financial year ending Jan 31, 2018, payable on Jan 5, 2018.
For the cumulative nine months of FY18 (9MFY18), Astro, however, saw net profit rise 23% to RM588.85 million from RM478.61 million a year ago, mainly due to improved Ebitda and lower net finance costs. This was despite a 1.7% drop in revenue to RM4.14 billion from RM4.22 billion in 9MFY17.
Scientex Bhd's net profit for the first financial quarter ended Oct 31, 2017 (1QFY18) rose 39% to RM72.4 million from RM52.06 million a year earlier, lifted by better sales from both its manufacturing and property development segments.
Earnings per share improved to 14.97 sen from 11.32 sen a year earlier. Quarterly revenue also increased 23% year-on-year to RM658.68 million from RM534.68 million.
Scientex declared a final dividend of 10 sen to be paid on Jan 26 next year.
Sapura Resources Bhd's net profit plunged 99.6% to RM412,000 in its third financial quarter ended Oct 31, 2017 (3QFY18) from RM98.32 million a year ago, in the absence of a one-off gain on disposal of a 49% stake in APIIT Education Group in August last year.
The decline was offset by lower finance costs. Earnings per share fell to 0.3 sen in 3QFY18 from 70.43 sen in 3QFY17.
Quarterly revenue grew 9.1% to RM12.94 million from RM11.86 million in 3QFY17, mainly due to higher revenue registered in the aviation segment.
For the cumulative nine months (9MFY18), the group slipped into a net loss of RM1.44 million compared to a net profit of RM102.71 million. Despite the losses, revenue edged higher by 5.7% to RM37.6 million from RM35.5 million during the same period.
Ranhill Holdings Bhd's wholly-owned subsidiary SAJ Capital Sdn Bhd has applied to issue sukuk with up to RM650 million in nominal value, which the water supply services provider will be guaranteeing.
SAJ Capital made a lodgement with the Securities Commission Malaysia today for the issuance of the sukuk that would have a 12-year tenure.
The proceeds from the sukuk will be used to finance the redemption of RM800 million Islamic medium term notes by Ranhill Capital Sdn Bhd, another Ranhill wholly-owned subsidiary.
The Sultan of Johor, Sultan Ibrahim ibni Almarhum Sultan Iskandar, has further raised his stake in 7-Eleven Malaysia Holdings Bhd to 15.52% on Nov 16 from 9.84%.
Sultan Ibrahim acquired 63.08 million shares, bringing his total shareholding in the group to 172.37 million shares.
The ruler has been increasing his equity in the convenient chain store group since Aug 8, when he bought 93.69 million shares, representing an 8.43% stake.
Sultan Ibrahim remains the second biggest individual shareholder in the company.
My E.G. Services Bhd (MyEG) has been granted a licence by the government to offer money lending services, which complements its existing business activities.
MyEG said its sub-subsidiary MY E.G. Credit Sdn Bhd (MYEC) has received a letter from the Ministry of Urban Wellbeing, Housing and Local Government, granting MYEC a moneylender's licence, pursuant to the Moneylenders Act 1951.
The licence is valid for two years, effective from the date of issuance of the letter and is subject to renewal with the ministry.
Acoustech Bhd, whose share price fell to its three-year low of 39 sen today, announced it is going to jointly develop shop offices worth an estimated RM71.4 million in gross development value (GDV) with Yayasan Pelajaran Johor's (YPJ) unit.
YPJ is a statutory body established under the Johore Education Foundation Enactment 1982.
Acoustech said its wholly-owned subsidiary Teras Eco Sdn Bhd inked a joint development agreement with YPJ's wholly-owned subsidiary YPJ Builders Sdn Bhd to develop 84 units of two and three-storey shop offices on two plots of leasehold land in Kota Tinggi, Johor. The plots collectively measure 19.328 acres.
Under the agreement, Acoustech said YPJ Builders will grant sole and exclusive rights to Teras Eco to carry out development works on the land at the cost and expense of the latter.
Nexgram Holdings Bhd has aborted its plan to jointly develop the Angkasa Icon City mixed commercial project in Cyberjaya, Selangor with Seychelles company China Asian Capital Holding Ltd (CACH).
Nexgram said its wholly-owned subsidiary Nexgram Land Sdn Bhd and CACH had agreed to discontinue the joint development agreement (JDA) signed on May 19 after a few subsequent discussions.
The JDA duly lapsed on Aug 18.
HCK Capital Group Bhd is buying a plot of leasehold land in Mukim Sungai Buloh, Selangor, which has been earmarked for a mixed commercial development, for RM80 million from Perbadanan Kemajuan Negeri Selangor (PKNS).
The land, measuring some 435,615.45 sq ft, is situated on Jalan Zuhal U5/179 in Seksyen U5, Shah Alam.
"The land is currently a vacant parcel and is intended for mixed commercial development. As at the date of this announcement, the development plan for the land has yet to be finalised and is still at the preliminary stage," it said.
Ajinomoto (Malaysia) Bhd, which posted a 7% year-on-year rise in first-half revenue, expects its revenue for the full financial year ending March 31, 2018 (FY18) to be better than FY17, said its managing director and chief executive officer Naoko Yamamoto.
"We are confident of continuing to do well in the second half of FY18, beating full-year FY17's revenue [of RM419.92 million]," Yamamoto said today at her first media conference since assuming her current post on July 1.
GD Express Carrier Bhd (GDex) expects to see mid-teen growth in its revenue for the financial year ending June 30, 2018 (FY18), according to managing director Teong Teck Lean.
However, stiff competition and the group's ambition to expand "aggressively" both domestically and regionally over the next few years are likely to add further pressure to the courier service provider's margins, he said.
In its first quarter ended Sept 30, 2017, GDex's net profit margin fell to 11.4% from 14% a year earlier.
Halex Holdings Bhd plans to buy Hextar Chemicals Ltd (HCL) at an indicative price of RM550 million in a bid to eliminate business competition.
Halex said the acquisition will also allow the company and its subsidiaries to expand its agrochemical business by tapping into HCL's customer and supplier network in more than 30 countries worldwide.
"It is also expected to potentially provide value-added services to Halex's customers through a combined range of products and services," Halex said in a filing with Bursa Malaysia.
HCL is owned by Hextar Holdings Sdn Bhd, whose major shareholders are the directors of Halex.