This article first appeared in The Edge Malaysia Weekly, on June 4, 2018 - June 10, 2018.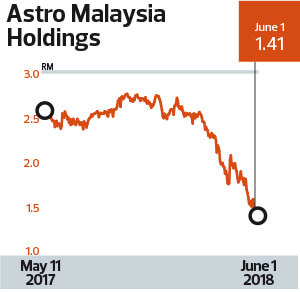 FOLLOWING the announcement that Radio Televisyen Malaysia (RTM) will be broadcasting some matches of the 2018 Fifa World Cup live, the share price of Astro Malaysia Holdings Bhd, which has the rights to broadcast all World Cup matches, closed at an all-time low of RM1.36 last Wednesday. It rebounded to RM1.41 last Friday.
The news of it being removed from the FBM KLCI component stock list added selling pressure on the stock.
According to Astro head of sports C K Lee, there are two types of broadcasting rights for the World Cup — pay TV and free-to-air (FTA) TV.
"Astro is the official broadcaster in Malaysia with pay TV rights to broadcast all 64 matches of the 2018 Fifa World Cup Russia and selected matches will be available for free on Astro Arena via NJOI Now and Astro GO apps. The FTA World Cup rights for TV stations like RTM do not sit with Astro," Lee clarifies.
Astro, however, has been saying that the broadcast of sport events is not its major earnings contributor.
Media analysts and corporate observers contacted by The Edge opine that Astro will be impacted by RTM's move. However, it is too early to say that the national broadcaster will give Astro a run for its money.
Malaysian Digital Association (MDA) president Serm Teck Choon is of the view that it will definitely have an impact on Astro, particularly subscriptions for its World Cup package.
"I believe the hardcore followers will still pay extra for Astro's 64 live matches in high definition. However, some not-so-hardcore fans may be satisfied with the 41 matches to be broadcast by RTM," he says.
A media analyst highlights that the selldown on Astro was due to a combination of factors.
In fact, the selling pressure emerged at the beginning of the year, triggered by concern that the media group would be removed from the FBM KLCI component stock list. Astro's share price has been sliding to all-time lows over the past four months.
The government's decision to have RTM broadcast World Cup matches, which was made near the deadline for the FBM KLCI revision, may have exacerbated the selling even though selected World Cup matches were also broadcasted on RTM in 2014.
"Astro has sport packages that customers can buy one-off. Previously, the FTA had also shown World Cup matches, but this time around, they will be showing more games," she says.
She also points out that FTA channels are still very much the preferred choices among viewers in rural areas.
"There will be a negative impact on Astro. Logically, its World Cup package will not be as popular. If you can watch the matches for free, there is no point really to subscribe for Astro's package," she adds.
A media analyst from UOB Kay Hian says Astro shares have been oversold and the stock is undervalued now.
"I believe its value has emerged. The current price is giving 6% to 7% yield. Astro deserves a better premium because it has a better platform. Astro's adex (advertising expenditure) has been growing tremendously. It has a quality audience and advertisers still prefer its platform to FTA TV," she says, adding that RTM had broadcast certain live matches during previous World Cup tournaments.
"This is not something new. I expect Astro's subscriber base to trend downwards, but it is mainly due to competition from other platforms rather than RTM."
Following the implementation of the zero-rated Goods and Services Tax, beginning last Friday, consumer sentiment is expected to improve. Therefore, it is anticipated that advertisers will be more aggressive this month, especially during the World Cup season.
This may not be the best time for Astro to lose some advantage, given that the advertisers will now have an alternative, namely RTM, to air their advertisements during the World Cup matches.
MDA's Serm says advertisers are aware that free TV and Astro offer them different audience segments and profiles, thus they will allocate their budgets according to their media plans and audiences they want to target.
Save by subscribing to us for your print and/or digital copy.
P/S: The Edge is also available on Apple's AppStore and Androids' Google Play.