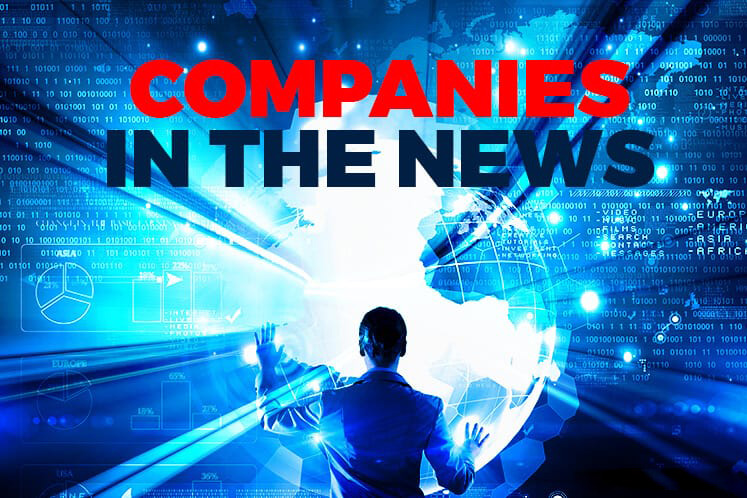 KUALA LUMPUR (March 26): Based on corporate announcements and news flow today, companies in focus tomorrow could include Astro Malaysia Holdings Bhd, Advancecon Holdings Bhd, Comfort Gloves Bhd, SCGM Bhd, VS Industry Bhd and AirAsia Bhd.
Astro Malaysia Holdings Bhd's net profit fell nearly 34.9% to RM118.4 million for the fourth financial quarter ended Jan 31, 2019 (4QFY19) from RM181.79 million a year ago, due to higher net finance costs and a decrease in earnings before interest, tax, depreciation and amortisation (Ebitda).
Astro said the increase in net finance costs was due to unfavourable foreign exchange (forex) movement arising from unhedged finance lease liabilities and increase in interest expenses attributable to borrowings and finance lease liabilities.
Quarterly revenue also dropped marginally by 1.5% to RM1.37 billion from RM1.39 billion in 4QFY18, mainly due to a decrease in subscription revenue, which was offset by higher merchandise sales and production service revenue.
For FY19, the group's net profit came in 40% lower at RM462.92 million from RM770.64 million the previous year, while anuual revenue was nearly flat at RM5.48 billion from RM5.53 billion in FY18.
Earthworks and civil engineering services provider Advancecon Holdings Bhd has signed a Memorandum of Understanding (MoU) with Kumpulan Semesta Sdn Bhd (KSSB) to explore opportunities in the solar energy industry in Malaysia, particularly the Large Scale Solar Project 3 initiated by the Energy Commission.
Comfort Gloves Bhd's net profit for the fourth quarter ended Jan 31, 2019 (4QFY19) almost doubled to RM9.39 million from RM4.78 million a year ago.
Comfort Gloves said its quarterly revenue grew 23% to RM130.55 million, from RM106.36 million a year earlier.
The group has recommended a final dividend of 1.5 sen per share.
For the entire FY19, the group's net profit fell 22% to RM27.9 million from RM35.9 million in FY18, due to a one-off logistic cost of RM5.4 million, higher taxation and deferred taxation expenses of RM7.5 million.
Thermoform food packaging manufacturer SCGM Bhd sank into the red in its third quarter ended Jan 31, 2019 (3QFY19) with a net loss of RM694,000 versus a net profit of RM5.4 million a year ago, no thanks to pricier raw material and increased finance costs.
Higher operating expenditure that was incurred in both its old and new plants during the transition period when it shifted operations also weighed on its performance during the quarter.
Meanwhile, revenue rose 4% to RM55.64 million from RM53.42 million on higher local demand for food and beverage packaging.
It declared a third interim single tier dividend of 0.25 sen per share for FY19, to be paid on April 26.
The weaker quarterly results also dragged its net profit for the cumulative nine months down to RM2.02 million, an 88% drop from the RM16.25 million it posted a year ago, despite cumulative revenue rising 6% to RM168.87 million from RM159.19 million.
VS Industry Bhd saw its net profit decline 14% to RM37.94 million for the second quarter ended Jan 31, 2019 (2QFY19) from RM44.24 million a year earlier.
Quarterly revenue fell 12% to RM982.65 million from RM1.12 billion in the previous year's corresponding quarter.
In a filing with the bourse, the group attributed the decline in performance to lower overseas contributions.
For the first half of its financial year, the group's net profit fell 11% to RM77.75 million from RM87.11 million, while revenue was down 6% to RM2.06 billion from RM2.19 billion.
AirAsia Group Bhd has asked Tribhuvan International Airport (TIA) in Kathmandu, Nepal to waive around Rs130 million (RM4.8 million) in outstanding fees, according to a report by The Himalayan Times .
The airline had suspended its flights to Nepal since Oct 13 last year.
The report quoted TIA as saying that AirAsia still has to pay around Rs194 million dues, of which around Rs 130 million is related to late fees.
Shashi Lal Pradhan, deputy manager of the Civil Aviation Office at TIA, told The Himalayan Times that a month ago, AirAsia had written a letter to TIA seeking a waiver of at least the late fees. However, TIA refused to do so.
After TIA refused its request to waive the late fees AirAsia had again sent a letter through the Embassy of Malaysia in Nepal, Pradhan said, adding that "if the Government addresses the embassy's request and directs us to waive their fees, then we will have to waive it".