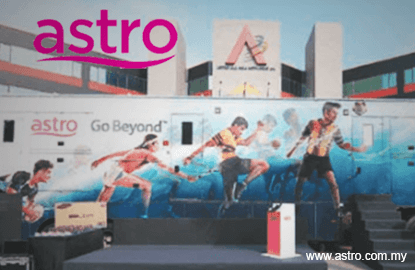 KUALA LUMPUR (March 28): Higher finance costs pulled down Astro Malaysia Holdings Bhd's earnings for the fourth quarter ended Jan 31, 2017 (4QFY17).
Net profit fell 28.8% to RM145.08 million or 2.79 sen per share from RM203.77 million 3.92 sen per share in 4QFY16.
In a filing with Bursa Malaysia today, Astro said higher net finance cost totalling of RM62.7 million was caused by higher unrealised foreign exchange (forex) loss arising from unhedged finance lease liabilities of RM47.7 million and unhedged vendor financing of RM34.1 million. This was offset by a realised forex gain from vendor financing of RM16.2 million.
Revenue for 4QFY17 fell by a marginal 0.3% to RM1.39 billion from RM1.4 billion a year ago due to lower contribution from subscription (RM2.1 million), home-shopping (RM2.5 million) and others (RM7.2 million), offset by higher advertising revenue of RM7.4 million.
The group also declared a fourth interim dividend of 3 sen, amounting to RM156.28 million, for the financial year ended Jan 31, 2017 (FY17), payable on April 27. It also recommended a final dividend of 0.5 sen per for FY17, which will paid on a date determined later subject to shareholders' approval.
For full year FY17, Astro saw its net profit rise 1.36% to RM623.68 million from RM615.31 million the previous year due to lower depreciation of property, plant and equipment and lower net finance cost.
Revenue for FY17 increased 2.5% to RM5.61 billion from RM5.48 billion in FY16.
In a separate statement, Astro chairman Tun Zaki Azmi said the company remains resilient in a challenging market, underpinned by strong execution of its strategic imperatives to deliver long-term shareholder returns.
Its group chief executive officer Datuk Rohana Rozhan said as Astro moves into a new year, it recognises its market strengths that needed be reinforced and built on, "(including) the gaps that Astro needs to aggressively address in order to be a deserving customer media brand of choice".
It noted that its television viewership is 77% with an average 13.9 million people tuning in four hours daily, weekly radio listenership is 15.6 million, and some 507,000 personal video recorders (PVRs) connected to broadband. It aims to have at least one million connected PVRs by year-end.
On digital advertising expenditure (adex), Astro earned RM30 million in FY17, it said, adding that it is aggressively growing its presence in the digital space, and thus its share of digital adex.
Going forward, it said home-shopping will remain its area of revenue growth as it invests in technology to accelerate digital transformation to deliver customer-centric, innovative, personalised and digital-first products and services at a much faster pace and larger scale.
Astro shares closed up 5 sen or 1.77% at RM2.87 today, for a market capitalisation of RM14.95 billion.