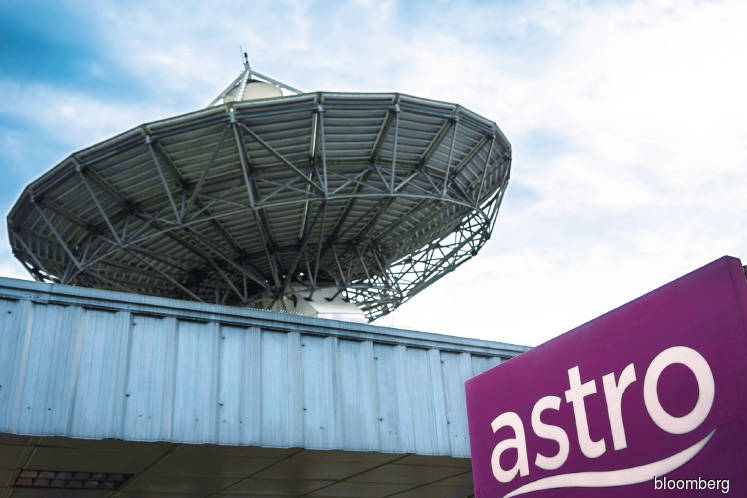 KUALA LUMPUR (Dec 6): Astro Malaysia Holdings Bhd's third quarter net profit dipped 2.86% to RM146.68 million, from RM151 million a year earlier, due to lower margin on earnings before interest, tax, depreciation and amortisation (EBITDA).
The EBITDA margin fell by 3% during the quarter ended Oct 31, 2017 (3QFY18), mainly due to higher license, copyright and loyalty fees, higher selling and distribution expenses and higher telecommunication cost, as a percentage of revenue.
"The decrease in EBITDA was offset with impairment of investment in associate of RM15.1 million in 3QFY17 and lower net finance costs," Astro said in a filing with Bursa Malaysia.
"Lower net finance cost was due to favourable unrealised forex gain arising from unhedged non-current balance sheet liabilities, comprising finance lease liabilities and vendor financing," the filing added.
Astro's earnings per share for the quarter stood at 2.81 sen, compared with 2.9 sen a year ago.
Quarterly revenue slipped 1.92% to RM1.39 billion, from RM1.42 billion last year, because of a slowdown in subscription, advertising and licensing revenue, offset by higher production revenue.
"The subscription revenue fall was mainly due to lower package take-up, whereas the dip in advertising revenue was over a subdued advertising market. Licensing revenue was down on the loss of content recovery for sports channel," Astro added.
The board has declared an interim dividend of three sen, amounting to RM156.41 million, payable on Jan 5. The ex-date is Dec 19 and entitlement date is Dec 21.
Meanwhile, Astro's cumulative nine-month net profit rose 23.03% to RM588.84 million or 11.3 sen per share, from RM478.6 million or 9.19 sen per share a year ago, while revenue shed 1.72% to RM4.14 billion, from RM4.21 billion.
Group chief executive officer Datuk Rohana Rozhan said Astro's growth is underpinned by continued strengthening of its propositions to households and commercial customers in Malaysia.
It is also aggressively securing engines for future growth by building an ecosystem comprising watch, listen, read, shop and serve for the individual's increasingly digital lifestyles in Malaysia and regionally, Rohana said in a statement.
"We do so by leveraging off our scale, investments, relationships and ongoing persona. Regionally, we will forge complementary win-win partnerships, identify strategic and opportunistic investments for our growth portfolio, and learn from value creators and disrupters of the future," Rohana added.
The group's advertising expenditure (adex) grew marginally by 0.4% to RM526 million against the backdrop of an 8% market decline, leading to a larger share in television adex and radio adex at 44% and 74% respectively.
"The better performance is attributed to strong TV viewership share of 77%, market leading weekly radio listenership of 16.5 million, and 7.4 million monthly unique visitors on Astro's digital properties," Astro said.
The group's home proposition grew about 6% to serve 5.3 million or 73% of Malaysian households, having registered a net growth of 313,000 customers, driven primarily by its NJOI free satellite television service.
Meanwhile, as part of its strategic longer-term growth portfolio, Astro has entered into a binding term sheet with Grup Majalah Karangkraf Sdn Bhd (GMK) to form a joint venture.
Astro said it would invest RM100 million for a 51% stake in GMK's wholly-owned unit, Karangkraf Digital 360 Sdn Bhd (KK360).
"The JV would extend Astro's online presence among the Malay-language audience and propel its combined monthly unique visitors to approximately 10 million.
"It is in line with Astro's goal to build Nusantara and Islamic content verticals. The JV aims to pursue 360° monetisation strategies for the KK360's content intellectual properties (IPs) across multiple platforms, leveraging on Astro's capabilities, growing reach and engagement," the filing added.
Astro said GMK will transfer its 38 IPs to KK360 for RM96 million, and GMK will be issued ordinary shares in KK360 in consideration of such transfer.
Barring unforeseen circumstances, the proposed JV is expected to be completed by the first half of 2018.
Astro shares closed down three sen or 1.06% at RM2.80 today, for a market capitalisation of RM14.75 billion.