This article first appeared in The Edge Malaysia Weekly, on October 21, 2019 - October 27, 2019.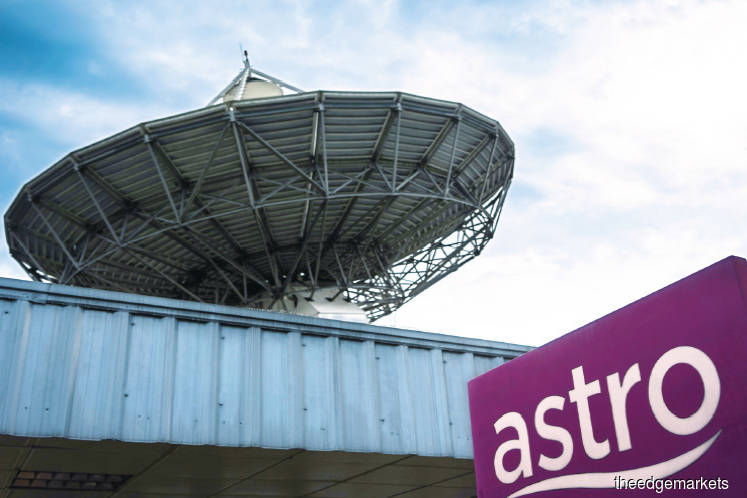 NOW that interest rates are projected to stay low for the foreseeable future, investors are likely to turn their attention to  defensive stocks with high dividend yields.
A possible candidate is content creator and broadcaster Astro Malaysia Holdings Bhd, given its attractive dividend yield of more than 5% based on its current share price of RM1.39.
Astro's dividend yield has become attractive because its share price has been on a downward trend. In fact, in the last two years, the counter has lost half its value, tumbling from RM2.82 on Oct 15, 2017, to RM1.39 at present.
Looking at its dividend per share over the last five years, Astro has been generous with its payouts. If calculated based on its current price of RM1.39, its dividend yield ranged from 7.9% to 8.9% from its financial year ended Jan 31, 2015 (FY2015) to FY2018. In absolute value, the dividend per share was between 11 sen and 12.5 sen for the four years.
Astro's dividend yield slipped in FY2019 as total dividends amounted to nine sen per share, translating into a yield of 6.4% for the year. For FY2020, analysts forecast a dividend per share of between 9 sen and 11 sen.
Attractive or not, the question is, are Astro's dividend yields sustainable? It is worth noting that its earnings have been eroded by falling subscription revenue over the years.
The group's policy is to pay out at least 75% of its consolidated profits and it has consistently doled out dividends in excess of its stated threshold since its listing in 2012.
"Astro is disciplined in its financials. It does not strain its free cash flow in order to reward its shareholders," says CGS-CIMB Research analyst Kamarul Anwar.
He points out that the company's dividends are expected to make up less than 60% of its free cash flow going forward, thus providing some assurance of its sustainability.
Astro's free cash flow stood at RM346 million in 2QFY2020.
In a fast-changing media landscape, not only have long-standing issues of piracy been a bane for Astro but international over-the-top (OTT) platforms are also adding to the pressure.
Maybank IB Research says in a report that the Malaysian Communications and Multimedia Commission (MCMC) is expected to take more steps to combat content piracy.
"We gather that MCMC will compel internet service providers to deny internet access to Android TV boxes. We also hope that MCMC will investigate e-commerce websites that sell Android TV boxes and even ban Android TV boxes altogether. In our view, this will narrow the decline in Astro's TV subscription revenue, if not drive its recovery," says the report.
Analysts note that Astro has been proactive in its efforts to retain and gain new customers in the difficult business environment in order to strengthen its earnings.
MIDF Research notes in a Sept 13 report that Astro's pay-TV average revenue per user stayed at around RM100, which could be mainly through the higher consumption of its On Demand VOD and OTT platforms and NJOI — a prepaid subscription.
Its broadband content bundling with Maxis has also been viewed positively by many. "By doing this, customers can pay their internet and Astro bills together and they get rebates on both. It's quite an attractive deal for customers," says CGS-CIMB Research's Kamarul.
According to MIDF Research, the increase in the number of connected set-top boxes also indicates that consumers are opting for Astro's attractive and premium content (for example, HBO Go and iQIYI) ahead of the analogue switch-off by the end of this month. This bodes well for Astro's earnings.
In its second quarter ended July 31, 2019 (2QFY2020), Astro announced a net profit of RM169.34 million, which was almost 10 times more than the RM16.58 million recorded in the previous corresponding period, as cost discipline measures paid off.
Analysts have attributed the improved profit partly to the absence of the FIFA World Cup, which had significantly bumped up content cost in FY2019.  The quarter also revealed more stable TV subscription revenue despite intense content piracy via Android TV boxes.
"At first glance, the 10% year-on-year decline in 2QFY2020 TV subscription revenue is ominous. But note that 2QFY2019 TV subscription revenue was buoyed by the FIFA World Cup. In fact, non-recurrence of FIFA World Cup content cost drove 2QFY2020 core net profit up 261% year on year to RM168.4 million.
"Ex-FIFA World Cup, we gather that 2QFY2020 TV subscription revenue would have eased 7% year on year, similar to that recorded in 1QFY2020," says Maybank IB Research's Sept 13 report.
Currently, there are 14 "buy", two "hold" and two "sell" calls on Astro with an average target price of RM1.74.