This article first appeared in The Edge Financial Daily, on December 5, 2019.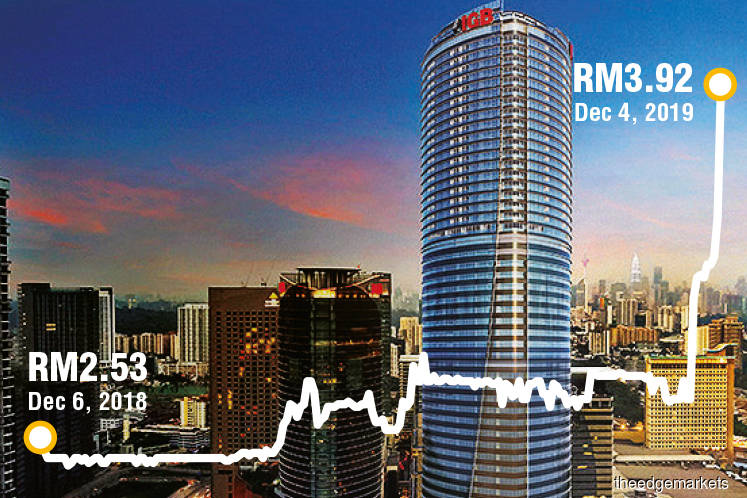 KUALA LUMPUR: IGB Bhd's share price soared 15.3% to an all-time high of RM3.92 yesterday. The leap on a single trading day is the biggest in recent years.
The expectation of IGB receiving sale proceeds of some RM635 million after the land sale in the UK continued fan buying interest in the usual hardly traded property stock.
The counter, which rose 15.29% or 52 sen to RM3.92 yesterday, was the top gainer on Bursa Malaysia. This is the largest jump in IGB's share price in recent years.
PublicInvest Research has an "outperform" call on IGB with a target price of RM4.70, which is 50% discount on its estimation of the group's revised net asset value of RM9.40.
"Hot on the heels on the group's plan to list its commercial assets via a REIT, it announced that it is disposing of its 50% stake in Black Pearl Ltd, a company which owns land known as 18 Blackfriars Road in London for £235 million (around RM1.27 billion)," PublicInvest wrote in a research note.
According to its financial year 2018 annual report, IGB's list of assets included 31.5 acres of leasehold land expiring in 2100 in southern Johor which is earmarked for Southkey project, Mid Valley South Point at Mid Valley City that carries net book value (NBV) of RM728.63 million, The Gardens Mall that has an NBV of RM481.34 million.
On top of that, it owns a list of hotels for example, Boulevard Hotel, Mid Valley, Cititel Hotel, Mid Valley, MiCasa Hotel Apartments plus office buildings, such as Menara Tan & Tan, Menara IGB, The Garden — North Office and The Garden — South Office.
This the second time that IGB's share price spiked in less than a month. The stock shot up 14% in a single day after the group has revealed that the group is planning to form a commercial real estate investment trust (REIT).
While details are still scant, should the transaction materialise, this would give a big boost to IGB's cash coffer.
As at Sept 30, IGB's cash balance was at RM730.7 million, with the anticipated sale proceeds of RM635 million, its cash coffer will expand to RM1.365 billion. Nonetheless, the group's total borrowings were at RM3.904 billion, of which RM3.349 billion was long-term debts.
To recap, the group announced on Tuesday that its wholly-owned subsidiary Verokey Sdn Bhd — who shares Black Pearl with Tower Ray — had signed a non-binding heads of terms agreement to potentially sell their (Verokey and Tower Ray) entire stake in Black Pearl to Hero Inc. Ltd, Staycity Ltd and BSW Land and Property Ltd for RM1.27 billion or £235 million.
The heads of terms agreement is exclusively for the three potential purchasers until Feb 7, 2020.
Given the 50-50 ownership structure of Black Pearl, IGB is expected to share half of the sale consideration which amounted to RM635 million.
Black Pearl is the owner of a 2.17-acre plot of land in London UK, located on 18 Blackfriars Road, SE1.