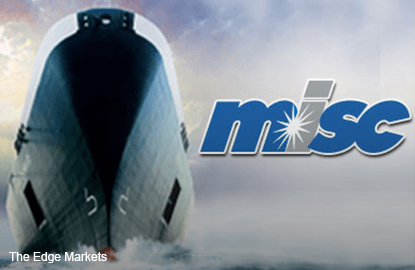 This article first appeared in The Edge Malaysia Weekly, on February 29 - March 6, 2016.
WHILE market talk of MISC Bhd structuring an asset injection exercise into Bumi Armada Bhd has subsided, the shipping giant sprang a surprise last week when it proposed to buy back a 50% stake in Gumusut-Kakap Semi-Floating Production System (L) Ltd (GKL) from Petroliam Nasional Bhd (Petronas).
MISC is paying its parent company US$445 million (RM1.8 billion) for the stake — 45.5% higher than the price it sold it for slightly over three years ago. Furthermore, the local currency has depreciated sharply, meaning the price is even steeper in ringgit terms.
However, investment analysts say it is a good deal for MISC. Some opine that the asset buyback would help Petronas — which has been hit hard by the fall in crude oil prices — strengthen its financials as well as give a big boost to MISC's earnings.
To recap, in December 2012, MISC sold the 50% stake in GKL to Petronas Carigali Sdn Bhd for US$305.7 million cash. The disposal was part of MISC's rationalisation programme to bring down its gearing level by selling off non-core and non-performing assets, including the liner business that was bleeding badly.
According to Daniel Wong, an oil and gas sector analyst with Hong Leong Investment Bank, the acquisition price should take into account the consolidation of GKL's debt.
When Petronas Carigali bought the 50% stake from MISC in 2012, it had also assumed half of GKL's debt amounting to US$713 million, which increased the purchase consideration to US$1.02 billion. After three years, GKL has pared some of its debt and MISC will only have to assume US$530 million of its debt now.
For the same asset, MISC is paying US$975 million, after taking into account the lower debt, Wong explains. 
He says the purchase price should not be seen in ringgit terms since the bulk of MISC's revenue is in US dollars.
Analysts have largely maintained their bullish outlook on MISC, the world's leading liquefied natural gas tanker operator, although the acquisition will raise the group's net gearing to 19.4% from 2.4%. They believe MISC's earnings will be lifted by about 17%, based on the group's net profit of RM2.47 billion in the financial year ended Dec 31, 2015 (FY2015).
If MISC had bought back the stake in FY2015, analysts estimate that its net profit would have been RM2.9 billion with the additional contribution of RM429.7 million from GKL.
GKL was previously wholly owned by MISC. The group's Bursa Malaysia-listed subsidiary Malaysia Marine and Heavy Engineering Holdings Bhd was awarded a contract to build the Gumusut-Kakap platform, a semi-submersible floating production system (FPS), in 2010.
The FPS has a production capacity of 150,000 barrels per day of crude oil. It is currently under a long-term lease of 25 years from the commencement of commercial production in October 2014.
"It's a good time for MISC to buy back its original stake in the platform. We expect the company to be in a net cash position in FY2016," Wan Mohd Zahidi, an oil and gas analyst with RHB Research, tells The Edge. Zahidi says MISC is facing challenges in securing new contracts for its offshore business and the acquisition is one way to ensure growth in the segment.
The offshore business made up about 21% of MISC's core profit before tax in FY2015, according to Maybank Investment Bank (see chart).
By the same token, the deal would help Petronas boost its cash holdings. The national oil company will be able to monetise its investment in GKL and replenish its coffers, in anticipation of a more challenging year in 2016 given the soft crude oil prices. 
"The FPS was supposed to be 100% owned by MISC, but 2011 and 2012 were not good years for the shipping group as its tanker and liner businesses were loss-making. Petronas took a stake in the FPS and that helped MISC [financially]," says an analyst, who declined to be named.
He adds that now that the situation is reversed, it is MISC's turn to help its parent company, which is in choppy waters now.
Some quarters believe the asset buyback reinforces the view that the national oil firm is hit harder by the oil slump now.
Petronas' net profit for the nine months ended Sept 30, 2015, more than halved to RM23.8 billion from RM54.9 billion in the previous corresponding period. Its annual earnings, to be released on Feb 29, are not expected to be impressive. 
The stronger US dollar should have been favourable to the national oil firm. But the positive impact was wiped out by the fall in crude oil prices from over US$100 per barrel to US$35.
Nonetheless, some observers say MISC should conserve its cash at a time when charter rates for oil and natural gas tankers are showing signs of distress.
Spot charter rates for very large crude carriers (VLCC) from the Arabian Gulf to the Far East have fallen by nearly 58% so far this year to US$44,579 per day, according to Poten & Partners. Meanwhile, VLCC daily charter rates between the Arabian Gulf and the US fell 63% to US$23,718.
But others reckon that MISC may have been insulated from the falling rates because many of its vessels are on long-term charter — for a period of at least three years. When MISC entered into the charter contracts, the prevailing rates then may have been higher than they are now.
To gauge MISC's average daily charter rates, one could look at its annual revenue from the energy tanker business and the number of vessels it had in FY2015. At the time, MISC's tanker business reported revenue of RM7.52 billion and it had 87 vessels.
MISC's vessels earned US$60,000 per day on average last year, based on the exchange rate of RM3.9074 to the US dollar.