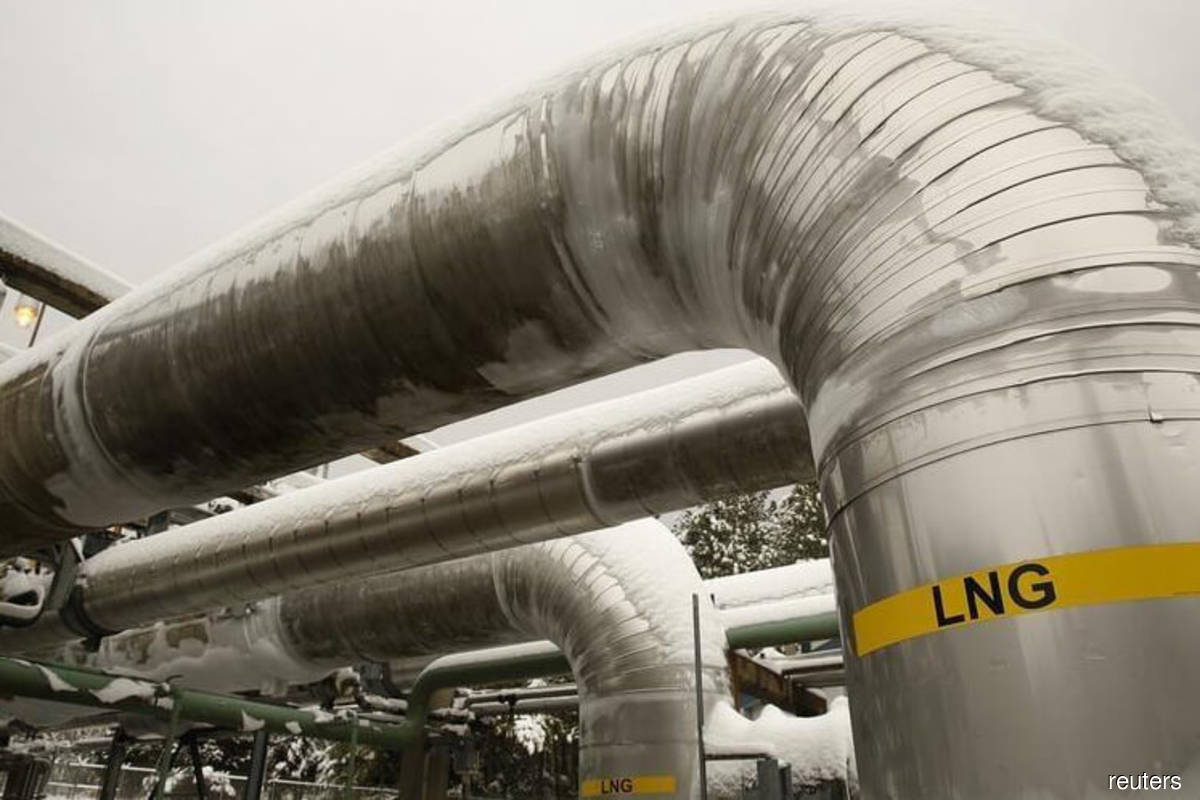 SINGAPORE (Jan 5): Liquefied natural gas is selling at prices above benchmark records in North Asia, as demand from colder winter weather has outstripped available supplies in the market.
Trafigura Group purchased a cargo from Gunvor Group for US$20.80 per million British thermal units for Feb 4-8 delivery to Incheon, South Korea via the S&P Global Platts Market on Close, according to traders with knowledge of the matter. The deal tops US $20.20, the record high Japan-Korea Marker spot price assessed by Platts in February 2014.
The deal illustrates a historic turnaround for Asian LNG prices, which fell to a record low in April, after the Covid-19 pandemic slashed demand for the fuel.
Gas consumption is rising as colder weather boosts the need for home heating in Japan, China and South Korea, the world's top importers. 
Meanwhile, numerous output issues at export facilities and delays traversing the Panama Canal has curbed supplies.
End-users in North Asia are struggling to find cargoes for prompt delivery, even as heating demand surges. Japanese utilities were forced to reduce generation at gas-fired power plants in order to conserve dwindling stockpiles, while in parts of China supplies are being limited for industrial users to ensure there's enough for residential use.
Drivers
Insufficient supplies have curbed trading in North Asia, making it challenging to assess LNG price levels, traders said. Few tenders are being awarded, and some end-users are balking at high offer prices. Only a handful of cargoes are being offered for February delivery.
Inpex may offer as many as two LNG cargoes from the Ichthys LNG project in Australia for loading in February.
Pertamina didn't award a tender offering an LNG cargo on an FOB basis for Feb 22 loading from the Corpus Christi export project in Texas.
Europe gas storage was at ~73% capacity on Sunday, compared with the 5-year average for that day of ~70%.
Scheduled gas flows to US LNG export terminals ~11.1 bcf on Monday, +29% y/y: BNEF.
Futures Prices
Japan-Korea Marker futures for February delivery on Nymex +63c to US$14.930/mmbtu on Monday.
March contract +12.5c to US$10.325/mmbtuDutch TTF futures for February delivery on ICE Monday settled at the equivalent of US$7.121/mmbtu, +27.7c from previous session, according to Bloomberg calculations.
March contract equivalent +24c to US$6.854/mmbtu.
Other Markets
Oil steadied extended losses after dropping the most in almost two weeks, as OPEC+ talks were unexpectedly suspended due to a disagreement over whether to raise output in February, as the coronavirus continues to surge.
US natural gas futures rose amid an outlook for colder weather in parts of the South, which could spur demand for the heating fuel and elevate flows to LNG export plants.
Chinese thermal coal futures advanced as cold weather continues to stoke strong demand for heating.
Japan's government is investigating if any speculative actions are accelerating the record-breaking surge in wholesale power prices, along with a winter supply crunch.