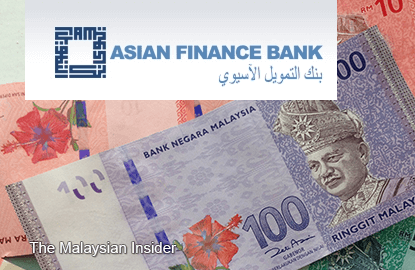 KUALA LUMPUR (July 14): Asian Finance Bank Bhd recorded a 98% rise in net profit to RM14.98 million for financial year ended December 31, 2014 (FY14) from RM7.57 million a year earlier.
Its chief executive officer Datuk Mohamed Azahari Kamil said the Islamic bank's performance was due to its financing assets, which grew 5.38% to RM1.74 billion from RM1.65 billion. Securities assets, which grew 17.29% to RM819 million from RM698 million also supported the bottom line, according to him.
"For this year (FY15), due to the tough economic conditions and the weakening ringgit, we are targeting a single digit financing growth of 5% and in 2 to 3 years we plan to achieve a return on equity (ROE) of 8% to 10%.
"As of March this year, our ROE stood at 4.15%. Moving forward, we will continue our strategy of targeting government-linked companies and high profile, public listed groups [for our customer base], in particular those public listed groups that have dealings with the government," Azahari told reporters after announcing the group's financial results today.