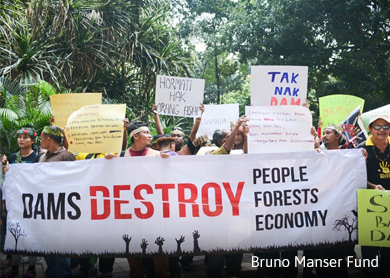 KUALA LUMPUR (Mar 16): The Asian Development Bank (ADB) reportedly will review the proposed US$45 million (RM148 million) loan to state power company, Sarawak Energy Berhad (SEB), for the construction of the 47km high-voltage transmission line from Mambong in Sarawak to Indonesia's West Kalimantan.
The announcement was made by ADB officials last week to a Malaysian green non-governmental organisation which had gone to the bank's Manila headquarters to appeal for the cancellation of the loan over allegations of corruption by SEB and its failure to consult and compensate affected indigenous communities.
The three-person delegation to the ADB headquarters from March 4 to 10 were Thomas Jalong, president of Jaringan Orang Asal SeMalaysia (JOAS); Caroline Nyurang, chair of Save Sarawak's Rivers youth committee; and Tanya Lee of International Rivers.
The green NGOs, in presenting the results of a fact-finding by JOAS, Save Rivers, Suara Rakyat Malaysia, Asian Indigenous Peoples Pact, the Bruno Manser Fund and International Rivers on the communities affected by the power line, highlighted their concerns about the loan in meetings with ADB's office of anti-corruption and integrity and senior bank staff.
The transmission line is part of the Trans-Borneo power grid and SEB last month reported 90% of the transmission towers were completed and while 65% of the transmission line was also completed.
"ADB is taking our concerns very seriously and has initiated an in-depth due-diligence process for the proposed loan to SEB," the Swiss-based forest conservancy group, Bruno Manser Fund (BMF), reported Nyurang as saying in a statement.
Nyurang was also quoted as saying that "ADB officials were particularly aware of SEB's close ties to the family of Sarawak governor Tun Abdul Taib Mahmud".
As a result of the NGO complaint, the proposed SEB loan is currently undergoing intense scrutiny which includes a review of SEB's corporate structure, track record and procurement practices.
"Bank officials said that ADB was committed to upholding its safeguard standards, including meaningful consultation and functioning grievance mechanisms," Nyurang said.
Jalong was quoted as saying that the NGOs were confident ADB's due diligence "will reveal safeguard violations by SEB with their transmission lines as well as with other energy projects".
In October last year, 40 organisations reportedly issued a letter to the president of the ADB and the bank's board of directors warning them of the reputational and financial risks associated with the loan.