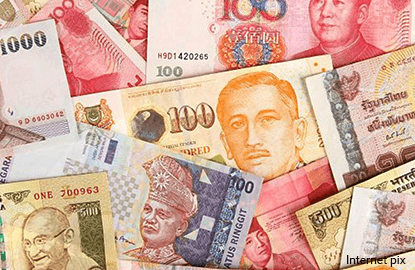 SINGAPORE (Feb 8): Most Asian currencies were steady to firmer on Wednesday, but  still nursed losses from the previous day when they fell on worries over European political risks and after data showed a drop in China's foreign exchange reserves.
South Korea's won edged up 0.1% to 1,143.08 versus the US dollar. On Tuesday, the won had shed 0.5% and pulled away from a near three-month high of 1,135.6 set on Monday.
The Indian rupee inched up 0.1% to 67.32, with the near-term focus on the Reserve Bank of India's interest rate decision later on Wednesday.
A Reuters poll last week showed 28 of 46 participants expect India's central bank to cut the repo rate by 25 basis points to 6.0%, its lowest since November 2010. Another two expected a 50 bps cut.
The Taiwan dollar eased 0.1% to 31.078, having backed off from a 19-month high of 30.83 set on Monday.
The Chinese yuan rose 0.1% to 6.8810, after touching a three-week low of 6.8916 earlier on Wednesday.
The yuan had slipped on Tuesday after data showed that China's foreign exchange reserves unexpectedly fell below the closely watched US$3 trillion level in January for the first time in nearly six years.
Reserves fell US$12.3 billion in January to US$2.998 trillion, more than the US$10.5 billion that economists polled by Reuters had expected.
The drop in China's reserves underscores the ongoing pressure from capital outflows, said Heng Koon How, senior FX investment strategist at Credit Suisse in Singapore.
"From a structural and cyclical perspective, the Chinese yuan will continue to weaken," Heng said, adding that the yuan will probably fall to levels beyond 7.00 per US dollar in the second quarter.
The yuan is facing pressure from ongoing capital outflows and declining foreign exchange reserves, as well as rising US interest rates, with the Federal Reserve still expected to raise interest rates twice this year, Heng added.
The yuan is still up nearly 1% so far in 2017, having rallied on short-covering after China clamped down on capital outflows and speculators.
A Reuters poll on Tuesday has forecast the yuan will fall to 7.18 per US dollar in 12 months, as the authorities continue to halt capital outflows and despite the recent hike in short-term interest rates.
CURRENCIES VS US DOLLAR
Change on the day at 0510 GMT
| | | | |
| --- | --- | --- | --- |
| Currency                | Latest bid   | Previous day    | % move |
| Japan yen                   | 112.27     | 112.40   | +0.12 |
| Sing dlr                    | 1.4167     | 1.4180   | +0.09 |
| Taiwan dlr                  | 31.078     | 31.048   | -0.10 |
| Korean won                 | 1143.08    | 1144.30   | +0.11 |
| Baht                         | 35.03      | 35.04   | +0.02 |
| Peso                        | 49.770     | 49.780   | +0.02 |
| Rupiah                       | 13325      | 13324   | -0.01 |
| Rupee                        | 67.32      | 67.41   | +0.13 |
| Ringgit                     | 4.4380     | 4.4340   | -0.09 |
| Yuan                        | 6.8810     | 6.8861   | +0.07 |
Change so far in 2017
| | | | |
| --- | --- | --- | --- |
| Currency                | Latest bid   | End prev year     | % move |
| Japan yen                   | 112.27     | 117.07   | +4.28 |
| Sing dlr                    | 1.4167     | 1.4490   | +2.28 |
| Taiwan dlr                  | 31.078     | 32.279   | +3.86 |
| Korean won                 | 1143.08    | 1207.70   | +5.65 |
| Baht                         | 35.03      | 35.80   | +2.20 |
| Peso                         | 49.77      | 49.72   | -0.10 |
| Rupiah                       | 13325      | 13470   | +1.09 |
| Rupee                        | 67.32      | 67.92   | +0.89 |
| Ringgit                     | 4.4380     | 4.4845   | +1.05 |
| Yuan                        | 6.8810     | 6.9467   | +0.95 |