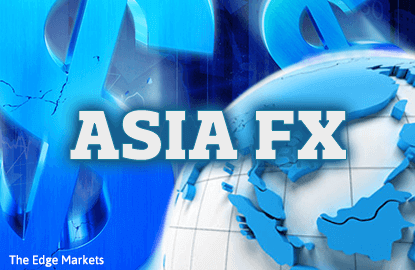 SINGAPORE (Jan 25): Asian currencies displayed some resilience on Wednesday, as lingering worries about U.S. President Donald Trump's protectionist stance and uncertaintyover his fiscal policies dragged on the dollar.
The Taiwan dollar rose 0.2% against the greenback, while the Singapore dollar edged up 0.1%.    
The Chinese yuan underperformed, slipping 0.3%, after China's central bank set a weaker daily fixing in response to a rebound in the dollar overnight.
Other Asian currencies were either steady or slightly lower on the day, taking a breather after having climbed in recent weeks, as investors trimmed bullish bets on the U.S. currency.
While the recent moves suggest that long dollar positions have been pared back to a large degree, the greenback could still retreat in the near-term, said Hirofumi Suzuki, an economist for Sumitomo Mitsui Banking Corporation in Singapore.
"I think there is still a significant chance that the (dollar's) Trump rally could be unwound further," Suzuki said.
The Singapore dollar could rise to levels around 1.41 to 1.40 per U.S. dollar in the near term, he added.
Asian currencies had retreated toward the end of 2016, following Trump's surprise election win in early November, as the dollar rose on bets that his promised infrastructure spending and tax cuts would boost growth and inflation, leading the U.S. Federal Reserve to follow through with a series of interest rate hikes.
Such optimism, however, has been tempered by Trump's inaugural speech last week that was heavily slanted toward trade protectionism.
Some analysts said the dollar's pullback seen since the start of the year could take a pause.
"President Trump's actions overnight suggest things can quickly turn," said Christopher Wong, senior FX strategist for Maybank.
Trump's signing of orders on Tuesday smoothing the path for the controversial Keystone XL and Dakota Access oil pipelines, suggest that infrastructure plans are not being forgotten, Wong said.  
The dollar's strength could return, if infrastructure spending plans continue to pick up pace, Wong added.
CURRENCIES VS U.S. DOLLAR
Change on the day at 0511 GMT
| | | | |
| --- | --- | --- | --- |
| Currency | Latest bid | Previous day | Pct Move |
| Japan yen | 113.57 | 113.79 | +0.19 |
| Sing dlr | 1.4200 | 1.4211 | +0.08 |
| Taiwan dlr | 31.326 | 31.382 | +0.18 |
| Korean won | 1164.90 | 1165.90 | +0.09 |
| Baht | 35.26 | 35.23 | -0.07 |
| Peso | 49.850 | 49.810 | -0.08 |
| Rupiah | 13335 | 13330 | -0.04 |
| Rupee | 68.15 | 68.15 | -0.00 |
| Ringgit | 4.4380 | 4.4330 | -0.11 |
| Yuan | 6.8773 | 6.8585 | -0.27 |
Change so far in 2017
| | | | |
| --- | --- | --- | --- |
| Currency | Latest bid | End prev year | Pct Move |
| Japan yen | 113.57 | 117.07 | +3.08 |
| Sing dlr | 1.4200 | 1.4490 | +2.04 |
| Taiwan dlr | 31.326 | 32.279 | +3.04 |
| Korean won | 1164.90 | 1207.70 | +3.67 |
| Baht | 35.26 | 35.80 | +1.55 |
| Peso | 49.85 | 49.72 | -0.26 |
| Rupiah | 13335 | 13470 | +1.01 |
| Rupee | 68.15 | 67.92 | -0.33 |
| Ringgit | 4.4380 | 4.4845 | +1.05 |
| Yuan | 6.8773 | 6.9467 | +1.01 |