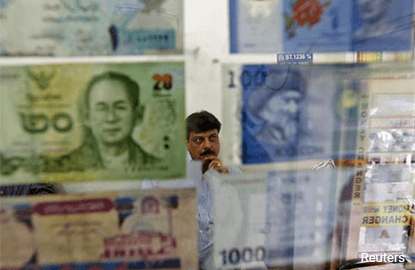 SINGAPORE (Feb 6): Asian currencies rose against the US dollar on Monday after disappointing US wage growth reinforced expectations for the Federal Reserve to wait until the second quarter before raising interest rates.
The Taiwan dollar touched a 19-month high of 30.83 per US dollar at one point.
The South Korean won and Thai baht both rose to their firmest in nearly three months. The won hit a peak of 1,136.3 and the baht rose to 34.996 per US dollar at one point.  
US jobs data on Friday showed that nonfarm payrolls increased by 227,000 jobs, the largest gain in four months.
The unemployment rate, however, edged up to 4.8% and wages increased by only three US cents, suggesting that there was still some slack in the labour market.
The absence of a strong rise in wages suggests that the possible timing of the Fed's next interest rate hike could be pushed back, said Hirofumi Suzuki, an economist for Sumitomo Mitsui Banking Corporation (SMBC) in Singapore.
"It's positive for US equities but negative for the dollar," Suzuki said.
"The US dollar could be headed toward a test of levels below 1.4 against the Singapore dollar," he added.
The Singapore dollar last stood at 1.4080 per US dollar. Earlier on Monday, the Singapore dollar rose to 1.4055, matching a near three-month high that was set on Friday after the US jobs data.
A Reuters poll showed on Friday that Wall Street's top banks expect just two rate hikes from the Fed this year. The poll of primary dealers — the banks that do business directly with the Fed — indicated none expect the next rate hike to occur before the second quarter.
Twelve of the 14 respondents to the poll forecast the Fed would raise the target rate for the benchmark federal funds rate by 0.25 percentage point to between 0.75% and 1.00% by the end of the second quarter.
The signs of slowing US wage growth are likely to undermine the US dollar against emerging Asian currencies for now, said Gao Qi, FX strategist for Scotiabank in Singapore.
Still, the greenback will probably resume its upward trend in the run-up to the next Fed meeting in March, Gao said, adding that Fed policymakers could start making hawkish-sounding comments ahead of the meeting.
"In addition, the dollar has been oversold versus some regional currencies such as the Korean won, Taiwan dollar and Thai baht," Gao said.
The 14-day exponential relative strength index (RSI), a popular technical indicator, shows that the US dollar has recently moved deeper into oversold territory against the won. The US dollar's RSI against the won is now at about 19.9. Levels below 30 are typically considered to be oversold.
CURRENCIES VS US DOLLAR
Change on the day at 0330 GMT
| | | | |
| --- | --- | --- | --- |
| Currency                | Latest bid   | Previous day    | % move |
| Japan yen                   | 112.38     | 112.57       | +0.17 |
| Sing dlr                    | 1.4080     | 1.4076       | -0.03 |
| Taiwan dlr                  | 30.908     | 31.050       | +0.46 |
| Korean won                 | 1137.70    | 1147.60       | +0.87 |
| Baht                         | 35.02      | 35.07       | +0.15 |
| Peso                        | 49.725     | 49.780       | +0.11 |
| Rupiah                       | 13328      | 13340       | +0.09 |
| Rupee                        | 67.21      | 67.32       | +0.16 |
| Ringgit                     | 4.4220     | 4.4260       | +0.09 |
| Yuan                        | 6.8585     | 6.8727       | +0.21 |
Change so far in 2017
| | | | |
| --- | --- | --- | --- |
| Currency                | Latest bid   | End prev year    | % move |
| Japan yen                   | 112.38     | 117.07       | +4.17 |
| Sing dlr                    | 1.4080     | 1.4490       | +2.91 |
| Taiwan dlr                  | 30.908     | 32.279       | +4.44 |
| Korean won                 | 1137.70    | 1207.70       | +6.15 |
| Baht                         | 35.02      | 35.80       | +2.24 |
| Peso                         | 49.73      | 49.72       | -0.01 |
| Rupiah                       | 13328      | 13470       | +1.07 |
| Rupee                        | 67.21      | 67.92       | +1.06 |
| Ringgit                     | 4.4220     | 4.4845       | +1.41 |
| Yuan                        | 6.8585     | 6.9467       | +1.29 |