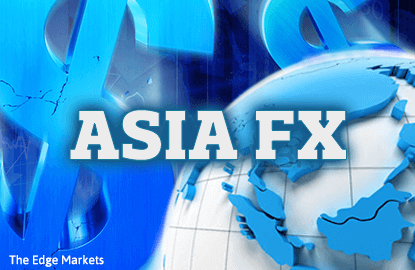 BENGALURU/SINGAPORE (March 16): Asian currencies rose on Thursday after the U.S. Federal Reserve sounded less hawkish than many had anticipated on the pace of further interest rate increases this year, in a relief for risk assets worldwide.
Investors holding long positions on Asian currencies were also relieved, after Dutch centre-right Prime Minister Mark Rutte scored a resounding victory over anti-Islam and anti-EU Geert Wilders in an election on Wednesday. 
"It is all but an open invitation to buy EM, equities, commodities as the Fed has green-lighted risk for the foreseeable future," said Stephen Innes, senior trader at OANDA.
The Taiwan dollar touched its highest since late May 2015, at 30.564 per U.S. dollar, while the South Korean won  climbed more than 1%. 
The Indian rupee rose nearly half a percent on strong equity markets and hit its highest since October 2015.
India's broader NSE share index hit a record high on Thursday.
China's yuan too strengthened, after the central bank raised short-term interest rates for the third time in as many months.
Analysts said with the Fed rate hike now out of the radar, investor attention will move to fundamentals of Asian economies which are showing signs of revival.
"This mild Fed stance will likely dispel the fear that a stronger dollar or higher U.S. rates pose a headwind to EM," Citi analysts wrote in a note.
"Instead, recent indications of a broadening and strengthening of the EM recovery, especially in Asia's more manufacturing-export economies, is likely to now become the principal driver of investment decisions." 
The 10-year U.S. Treasury yield fell after the Fed meeting, slipping to as low as 2.486% on Thursday.
Earlier this week, it rose to as high as 2.629%, near a two-year high of 2.641% set in mid-December.
Some analysts said the drop in U.S. bond yields was likely to bolster demand for higher-yielding currencies in emerging Asian markets.     
"We have been fairly constructive on Asian carry such as IDR and INR. Our forecasts is for U.S. yields, especially the 10-year yields, to not move significantly higher," said Mitul Kotecha, head of Asia macro strategy for Barclays in Singapore.
The risk adjusted returns, as measured by the Sharpe ratio for the Indian rupee, the South Korean won and the Taiwan dollar, have all been over 3% this year, according to Thomson Reuters' calculations.
CURRENCIES VS U.S. DOLLAR
Change at 0702 GMT
| | | | |
| --- | --- | --- | --- |
| Currency | Latest bid | Previous day | Pct Move |
| Japan yen | 113.230 | 113.35 | +0.11 |
| Sing dlr | 1.404 | 1.4011 | -0.17 |
| Taiwan dlr | 30.668 | 30.840 | +0.56 |
| Korean won | 1132.000 | 1143.6 | +1.02 |
| Baht | 35.023 | 35.054 | +0.09 |
| Peso | 50.210 | 50.34 | +0.26 |
| Rupiah | 13337.000 | 13360 | +0.17 |
| Rupee | 65.370 | 65.69 | +0.48 |
| Ringgit | 4.435 | 4.446 | +0.25 |
| Yuan | 6.891 | 6.9135 | +0.33 |
Change so far
| | | | |
| --- | --- | --- | --- |
| Currency | Latest bid | End 2016 | Pct Move |
| Japan yen | 113.230 | 117.07 | +3.39 |
| Sing dlr | 1.404 | 1.4490 | +3.24 |
| Taiwan dlr | 30.668 | 32.279 | +5.25 |
| Korean won | 1132.000 | 1207.70 | +6.69 |
| Baht | 35.023 | 35.80 | +2.22 |
| Peso | 50.210 | 49.72 | -0.98 |
| Rupiah | 13337.000 | 13470 | +1.00 |
| Rupee | 65.370 | 67.92 | +3.90 |
| Ringgit | 4.435 | 4.4845 | +1.12 |
| Yuan | 6.891 | 6.9467 | +0.81 |