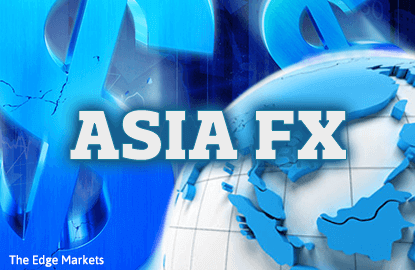 SINGAPORE (Jan 26): Asian currencies rose on Thursday, as the dollar was unable to shake off worries over U.S. President Donald Trump's protectionist stance on trade and uncertainty over his fiscal policies.
With the greenback on the defensive, the Taiwan dollar rose to as high as 31.250 at one point, matching a peak hit on Oct 3.
The South Korean won poked above its early December peak and rose to as high as 1,156.0 against the U.S. dollar, the won's strongest level since Nov 10.
Uncertainty over the economic policies of the Trump administration have played a large part in recent moves in Asian currencies, said Mingze Wu, FX trader of global payments for financial services provider INTL FCStone Ltd in Singapore.
"There is no clarity on his economic game plan other than strong rhetoric, which sound difficult to implement," Wu said.
The outlook for Asian currencies against the dollar will hinge on any forward guidance that the U.S. Federal Reserve may provide, after its two-day policy meeting next week, as well as how successful Trump is in his economic policies, Wu added.
Against a basket of six major currencies, the U.S. dollar touched a low of 99.793, its weakest level since Dec 8. 
Ahead of the Fed policy meeting next week, investors will turn their focus to U.S. fourth quarter gross domestic product data, due on Friday.
"If U.S. GDP growth rises above 2 percent again in the fourth quarter, next week's FOMC meeting could signal a Fed hike in March," said Philip Wee, senior currency economist for DBS Bank. 
"For dollar strength to return, we need the Fed to signal its departure from one hike a year to a gradual (rate) hike cycle this year," Wee said.
The dollar is likely to rise, helped by expectations for the Fed to raise interest rates further this year, but the impact could be balanced by a global economic recovery that is becoming more synchronised and not just about U.S. growth, Wee added. 
CURRENCIES VS U.S. DOLLAR
Change on the day at 0639 GMT
| | | | |
| --- | --- | --- | --- |
| Currency | Latest bid day | Previous Move | Pct |
| Japan yen | 113.64 | 113.28 | -0.32 |
| Sing dlr | 1.4162 | 1.4129 | -0.23 |
| Taiwan dlr | 31.325 | 31.332 | +0.02 |
| Korean won | 1158.45 | 1166.00 | +0.65 |
| Baht | 35.22 | 35.23 | +0.03 |
| Peso | 49.745 | 49.810 | +0.13 |
| Rupiah | 13340 | 13356 | +0.12 |
| Rupee | 68.08 | 68.07 | -0.01 |
| Ringgit | 4.4300 | 4.4370 | +0.16 |
| Yuan | 6.8804 | 6.8818 | +0.02 |
Change so far in 2017
| | | | |
| --- | --- | --- | --- |
| Currency | Latest bid year | End prev Move | Pct |
| Japan yen | 113.64 | 117.07 | +3.02 |
| Sing dlr | 1.4162 | 1.4490 | +2.32 |
| Taiwan dlr | 31.325 | 32.279 | +3.05 |
| Korean won | 1158.45 | 1207.70 | +4.25 |
| Baht | 35.22 | 35.80 | +1.66 |
| Peso | 49.75 | 49.72 | -0.05 |
| Rupiah | 13340 | 13470 | +0.97 |
| Rupee | 68.08 | 67.92 | -0.23 |
| Ringgit | 4.4300 | 4.4845 | +1.23 |
| Yuan | 6.8804 | 6.9467 | +0.96 |