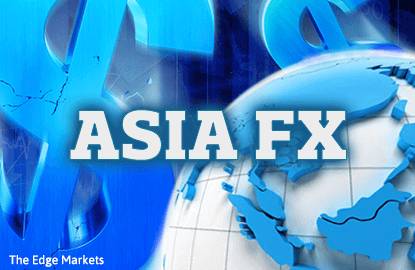 BENGALURU (March 8): Most Asian currencies inched higher on Wednesday, as the dollar struggled to gain traction ahead of U.S. jobs data due later in the week.
The Singapore dollar and Taiwan dollar eked out gains, supported by strength in their equity markets.
The Indonesian rupiah advanced on strong tax amnesty inflows.
Data released on Tuesday showed Indonesia's foreign exchange reserves rose to US$119.9 billion in February, the highest since August 2011, helped by tax and energy export revenues.    
The Malaysian ringgit saw small declines on rising U.S. Treasury yields, which look to drive increased selling in Malaysian government bonds, according to analysts. The yield spread between Malaysian 10-year government bonds and U.S. 10-year Treasuries narrowed to 1.62 percentage points, the lowest in nearly three months. 
The dollar was little changed, as investors awaited Friday's U.S. jobs report to take further cues from the market. The 10-day volatility of the dollar index, fell to 5.3%, the lowest in four months.
"At the moment, most investors are looking for a rate hike from the U.S. Federal Reserve in March. But the question now is whether it is a hawkish hike or a dovish hike. And I think the non-farm payroll data on Friday will let us know about that," said Vaninder Singh, Asia economist at RBS, based in Singapore.
    
Chinese yuan
China's yuan was little changed on the day. 
The currency barely reacted to data showing that China's yuan-denominated trade balance posted a deficit for the first time in three years in February, as a year-on-year jump in yuan-denominated imports outpaced a rise in exports.
Data released on Tuesday showed that China's foreign exchange reserves unexpectedly rose for the first time in eight months in February, as a regulatory crackdown and weakness in the dollar helped staunch capital outflows.
However, some analysts said the FX reserves showing only a small gain still point towards significant capital outflow pressures, especially if U.S. Treasury yields rise further.  
Change so far in 2017
| | | | |
| --- | --- | --- | --- |
| Currency | Latest bid | End prev year | Pct Move |
| Japan yen | 113.73 | 117.07 | +2.94 |
| Sing dlr | 1.4101 | 1.4490 | +2.76 |
| Taiwan dlr | 30.815 | 32.279 | +4.75 |
| Korean won | 1145.50 | 1207.70 | +5.43 |
| Baht | 35.16 | 35.80 | +1.84 |
| Peso | 50.27 | 49.72 | -1.09 |
| Rupiah | 13338 | 13470 | +0.99 |
| Rupee | 66.64 | 67.92 | +1.93 |
| Ringgit | 4.4480 | 4.4845 | +0.82 |
| Yuan | 6.9030 | 6.9467 | +0.63 |