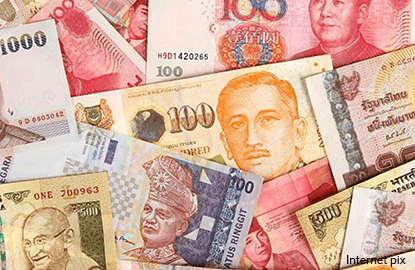 BENGALURU (March 9): Emerging Asian currencies fell as U.S Treasury yields spiked, narrowing the gap with Asian bond yields, after a surge in U.S. private-sector jobs in February reinforced expectations of a Federal Reserve interest rate hike next week.
The South Korean won was the biggest decliner with a drop of more than 1%. The Taiwan dollar fell nearly half a percent.
The Malaysian ringgit and the Indonesian rupiah, both fell as the crude oil prices fell over 5% on Wednesday, reducing the value of their oil and gas exports.
China's yuan fell slightly after its consumer inflation cooled to its slowest pace since January 2015, giving the People's Bank of China (PBOC) more leeway to tighten policy.
The dollar rose as expectations for a Fed rate hike next week strengthened after the U.S. private sector companies added 298,000 workers in February, the biggest monthly gain since December 2015.
U.S Treasury yields jumped with the benchmark 10-year yield hitting its highest level since December on Wednesday, causing the yield differential with emerging Asian bonds to narrow further. 
THE MALAYSIAN RINGGIT
Weakened by falling oil prices, the Malaysian ringgit eased 0.1% to 4.4570 per dollar, touching its weakest since Feb 21.
Also, the recent rise in U.S Treasury yields has driven the foreigners to sell Malaysian bonds in recent months. Foreign investors were net sellers of Malaysian debt securities for the fourth consecutive month in February, and the foreign ownership declined to 44.7%, the lowest since January 2015.
"The Malaysian ringgit should get hit from both sides as oil prices plummet and surging U.S. yields weigh on the unit near term," said Stephen Innes, senior trader at OANDA in a note.