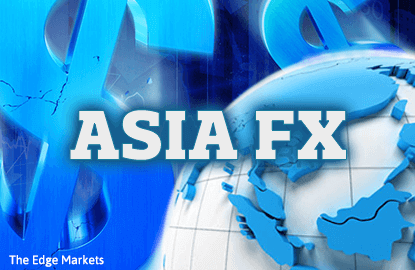 (March 15): Asian currencies were largely flat on Wednesday, as investors  nervously awaited an expected U.S. interest rate hike later in the day and hoped for more clues on the pace of future tightening.
Beside the expected announcement of a quarter-point rate rise (1800 GMT), the Federal Reserve will also reveal a fresh "dot plot" that could signal whether most of its policy committee now expect more than three rate increases this year.  
 
The "dot plot" is policymakers' rate projections and provides a view into their interest rate outlook.
Some market watchers wonder whether the new chart may point to the possibility of four rate rises this year, reflecting a brighter economic outlook.
The Indian rupee and the South Korean won rose, while most of the other regional currencies were trading flat.
"We expect the fed funds target range to increase by 25 basis points. This should be the start of a more prolonged, yet gradual pace of rate hikes, in contrast to the past two years, when the Fed paused its rate hike cycle." said Maritza Cabezas, senior economist for ABN AMRO, in a research note. 
A few analysts said the Asian currencies would see less impact this time, unlike during the "taper tantrum" of 2013, in which some currencies such as Indian rupee and Indonesian rupiah fell sharply.
"Last time it was a pure yield adjustment in spite of an absence of growth or demand in the U.S. This time around, the difference is some of the upward yield movement is coming on the hopes of growth being posted by fiscal stimulus in the U.S.," said Vishnu Varathan, senior economist at Mizhuo.
"The sell-off in (Asian currencies) will be not be as acute this time."
Policy decisions at the Bank of England and the Japanese central bank, alongside a Dutch election vote within the next 36 hours, also kept the investors cautious on Wednesday.
    
Indian rupee
The Indian rupee was up 0.4% at 65.525 per dollar, the highest since November 2015.
The rupee bucked the trend of other regional currencies, as it rose further on the back of strong election results and inflation data.
On Tuesday, the data from the Ministry of Statistics showed the consumer prices rose by an annual 3.65% in February, compared with January's 3.17% increase
"Core pressures should begin to build in the months ahead, effectively narrowing the room for the Reserve Bank of India to lower rates further," said DBS in a research note.
CURRENCIES VS U.S. DOLLAR
Change on the day at 0555 GMT
| | | | |
| --- | --- | --- | --- |
| Currency | Latest bid | Previous day | Pct Move |
| Japan yen | 114.780 | 114.73 | -0.04 |
| Sing dlr | 1.414 | 1.4153 | +0.13 |
| Taiwan dlr | 30.887 | 30.966 | +0.26 |
| Korean won | 1143.800 | 1148.8 | +0.44 |
| Baht | 35.259 | 35.304 | +0.13 |
| Peso | 50.300 | 50.36 | +0.12 |
| Rupiah | 13365.000 | 13370 | +0.04 |
| Rupee | 65.505 | 65.82 | +0.47 |
| Ringgit | 4.447 | 4.448 | +0.02 |
| Yuan | 6.914 | 6.9139 | -0.00 |
Change so far
| | | | |
| --- | --- | --- | --- |
| Currency | Latest bid | End 2016 | Pct Move |
| Japan yen | 114.780 | 117.07 | +2.00 |
| Sing dlr | 1.414 | 1.4490 | +2.51 |
| Taiwan dlr | 30.887 | 32.279 | +4.51 |
| Korean won | 1143.800 | 1207.70 | +5.59 |
| Baht | 35.259 | 35.80 | +1.53 |
| Peso | 50.300 | 49.72 | -1.15 |
| Rupiah | 13365.000 | 13470 | +0.79 |
| Rupee | 65.505 | 67.92 | +3.69 |
| Ringgit | 4.447 | 4.4845 | +0.84 |
| Yuan | 6.914 | 6.9467 | +0.47 |