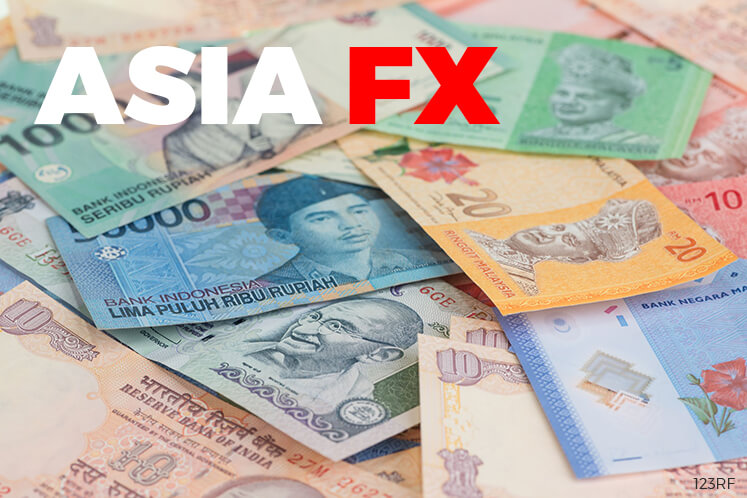 (April 11): Asian currencies were subdued on Tuesday as geopolitical risks dampened risk appetites and dented assets such as regional equities.
The US dollar fell in Asian trading as tensions with North Korea and Syria weighed on US Treasury yields.
"The risk-off sentiment is a bit driven by the North Korea risk. That puts more risk in North Asian economies and economies reliant on trade," said Sean Yokota,  head of Asia strategy at Skandinaviska Enskilda Banken.
China and South Korea agreed on Monday to impose tougher sanctions on North Korea if it carries out nuclear or long-range missile tests.
US President Donald Trump last week pressed Chinese President Xi Jinping to do more to curb North Korea's nuclear program. A US Navy strike group is headed towards the Korean peninsula as a show of force.
North Korea marks several major anniversaries this month and often marks such occasions with major tests of military hardware.
The South Korean won continued to lose, down 0.39% to 1,146.7 against the US dollar. The currency fell more than 1% last week.
The Philippine peso, which saw a strong run the past two sessions in contrast to the regional trend, see-sawed after data showed its deficit widening in February.
With exports growing at a slower pace and import growth at a 9-month high, trade deficit in February widened to US$1.73 billion from US$1.1 billion a year ago.
Strong capital inflows in the past few sessions have kept peso buoyant with analysts expecting the prospects of a tax amnesty plan raising hopes for potential inflows.
The Taiwan dollar was up marginally in the early afternoon, presenting a possibility it could break a seven-day losing streak against the US dollar.
On Monday, The island dependent on tech exports reported solid trade data for the first quarter on Monday.
Exports in the January-March quarter to the two biggest markets, China and the US, were up 22% and 7.6%, respectively.
CURRENCIES VS US DOLLAR
Change on the day at 0611 GMT
| | | | |
| --- | --- | --- | --- |
| Currency                     | Latest bid  | Previous day  | % move |
| Japan yen                    | 110.650     | 110.93        | +0.25 |
| Sing dlr                     | 1.405       | 1.4049        | -0.04 |
| Taiwan dlr                   | 30.630      | 30.652        | +0.07 |
| Korean won                   | 1146.700    | 1142.2        | -0.39 |
| Baht                         | 34.596      | 34.614        | +0.05 |
| Peso                         | 49.640      | 49.705        | +0.13 |
| Rupiah                       | 13285.000   | 13285         | +0.00 |
| Rupee                        | 64.560      | 64.56         | -0.01 |
| Ringgit                      | 4.433       | 4.433         | +0.00 |
| Yuan                         | 6.902       | 6.9050        | +0.05 |
Change so far
| | | | |
| --- | --- | --- | --- |
| Currency                     | Latest bid  | End 2016      | % move |
| Japan yen                    | 110.650     | 117.07        | +5.80 |
| Sing dlr                     | 1.405       | 1.4490        | +3.10 |
| Taiwan dlr                   | 30.630      | 32.279        | +5.38 |
| Korean won                   | 1146.700    | 1207.70       | +5.32 |
| Baht                         | 34.596      | 35.80         | +3.48 |
| Peso                         | 49.640      | 49.72         | +0.16 |
| Rupiah                       | 13285.000   | 13470         | +1.39 |
| Rupee                        | 64.560      | 67.92         | +5.20 |
| Ringgit                      | 4.433       | 4.4845        | +1.16 |
| Yuan                         | 6.902       | 6.9467        | +0.65 |