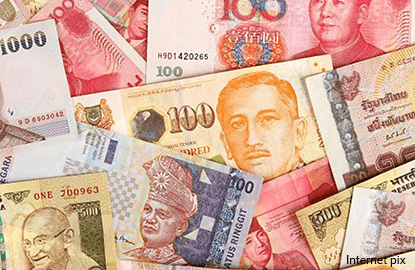 SINGAPORE (Jan 13): Most Asian currencies slipped on Friday but were on track to post weekly gains, after US President-elect Donald Trump's news conference this week offered little clarity on his fiscal policy plans and dented the US dollar.
The Philippine peso slipped 0.3% on the day, weighed down by falls in Philippine shares. The Indonesian rupiah and Indian rupee eased 0.2%.
A bigger-than-expected drop in China's exports in December weighed on Asian currencies, although the Chinese trade data also contained some encouraging signs, with imports rising slightly more than expected.
Traders seem to be looking to buy the US dollar on dips, said Stephen Innes senior trader for FX broker OANDA in Singapore.
"The Trump reflation trade is springing a leak, but I don't think it's over," Innes said.
Against a basket of six major currencies, the US dollar stood at 101.27, having pulled up from Thursday's five-week low of 100.72.
US dollar bulls had been disappointed by Trump's news conference on Wednesday that offered no details on his plans for infrastructure spending and tax cuts.
"There's a bit of doubt on whether markets have been overly optimistic in pricing in the impact of fiscal stimulus and tax cuts, and now there's an ongoing reassessment," said Chang Wei Liang, FX strategist for Mizuho Bank in Singapore.
Asian currencies, however, will probably come under pressure going into February and March, given the risk of a rise in US trade protectionism under the Trump Administration, Chang said.
MARKET POSITIONING
A Reuters poll published on Thursday showed that sentiment towards most emerging Asian currencies improved in recent weeks, with bearish bets against China's yuan falling to the lowest in three months after Beijing clamped down on capital outflows and speculators.
CURRENCIES VS US DOLLAR
Change on the day at 0746 GMT
| | | | |
| --- | --- | --- | --- |
| Currency                 | Latest bid   | Previous day  | % move |
| Japan yen                    | 114.62     | 114.75     | +0.11 |
| Sing dlr                     | 1.4272     | 1.4272     | +0.00 |
| Taiwan dlr                   | 31.585     | 31.780     | +0.62 |
| Korean won                  | 1172.21    | 1184.70     | +1.07 |
| Baht                          | 35.40      | 35.37     | -0.08 |
| Peso                         | 49.620     | 49.480     | -0.28 |
| Rupiah                        | 13310      | 13285     | -0.19 |
| Rupee                         | 68.23      | 68.08     | -0.22 |
| Ringgit                      | 4.4610     | 4.4560     | -0.11 |
| Yuan                         | 6.8923     | 6.8901     | -0.03 |
Change so far in 2017
| | | | |
| --- | --- | --- | --- |
| Currency                 | Latest bid   | End prev year  | % move |
| Japan yen                    | 114.62     | 117.07     | +2.14 |
| Sing dlr                     | 1.4272     | 1.4490     | +1.53 |
| Taiwan dlr                   | 31.585     | 32.279     | +2.20 |
| Korean won                  | 1172.21    | 1207.70     | +3.03 |
| Baht                          | 35.40      | 35.80     | +1.14 |
| Peso                          | 49.62      | 49.72     | +0.20 |
| Rupiah                        | 13310      | 13470     | +1.20 |
| Rupee                         | 68.23      | 67.92     | -0.45 |
| Ringgit                      | 4.4610     | 4.4845     | +0.53 |
| Yuan                         | 6.8923     | 6.9467     | +0.79 |