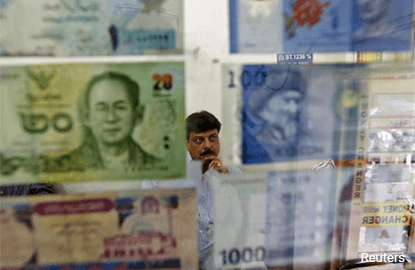 BENGALURU/SINGAPORE (March 2): Asian currencies slipped on Thursday as the US dollar rose on expectations of a Federal Reserve rate hike in March, although  some pared their losses on risk taking by investors.
The South Korean won fell more than 1% at one point but later trimmed losses, underpinned by strong inflows in equities.
The Singapore dollar and the Taiwan dollar also pared some losses suffered earlier in the day.  
"There is some bounce due to inflows into the (Asian equities) market. But this week, it is mostly about US dollar moves which are driven by expectations of a rate hike in March," said Andy Ji, a currency strategist at Commonwealth Bank of Australia.
The expectations of a March rate hike received a further boost from Federal Reserve Governor Lael Brainard on Wednesday who said an improving global economy and a solid US recovery mean it will be "appropriate soon" for the Fed to raise rates.
While a US rate hike is expected to result in foreign outflows from Asian markets, analysts said a strong US economy was good for Asia as it would benefit their exports.
"I think there are two opposite forces here: on one side, Fed hike would trigger capital outflows and hurt Asian FX but on the other side, signs of a sustainably stronger US economy is positive for Asia, at least until Trump's trade policy becomes clear," said Amy Yuan Zhuang, Nordea Markets' chief analyst.
Analysts said the market would be focusing on Fed Chair Janet Yellen's speech due on Friday, as well as US jobs data on March 10, for further hints on the chances of a Fed rate hike at its policy meeting on March 14-15.
TAIWAN DOLLAR     
The Taiwan dollar fell 0.1% to 30.8 per US dollar, but still hovered near a 20-month high of 30.65 reached last Friday.
The Taiwan dollar is Asia's second-biggest gainer with a near 5% increase this year on the back of strong capital inflows. In the first two months of this year, foreign investors have put more than US$3 billion in Taiwan equities, according to exchange data.
Taiwan's central bank governor said on Thursday the US government is unlikely to label the country as a currency manipulator under the existing criteria used by the US Treasury to assess currency policies of its trading partners.
CURRENCIES VS US DOLLAR
Change on the day at 0457 GMT
| | | | |
| --- | --- | --- | --- |
| Currency               | Latest bid   | Previous day      | % move |
| Japan yen                  | 113.98     | 113.73    | -0.22 |
| Sing dlr                   | 1.4108     | 1.4090    | -0.13 |
| Taiwan dlr                 | 30.793     | 30.760    | -0.11 |
| Korean won                | 1143.40    | 1130.70    | -1.11 |
| Baht                        | 34.99      | 34.97    | -0.07 |
| Peso                       | 50.315     | 50.280    | -0.07 |
| Rupiah                      | 13362      | 13361    | -0.01 |
| Rupee                       | 66.73      | 66.82    | +0.14 |
| Ringgit                    | 4.4480     | 4.4455    | -0.06 |
| Yuan                       | 6.8842     | 6.8824    | -0.03 |
Change so far in 2017
| | | | |
| --- | --- | --- | --- |
| Currency               | Latest bid   | End prev year      | % move |
| Japan yen                  | 113.98     | 117.07    | +2.71 |
| Sing dlr                   | 1.4108     | 1.4490    | +2.71 |
| Taiwan dlr                 | 30.793     | 32.279    | +4.83 |
| Korean won                | 1143.40    | 1207.70    | +5.62 |
| Baht                        | 34.99      | 35.80    | +2.31 |
| Peso                        | 50.32      | 49.72    | -1.18 |
| Rupiah                      | 13362      | 13470    | +0.81 |
| Rupee                       | 66.73      | 67.92    | +1.79 |
| Ringgit                    | 4.4480     | 4.4845    | +0.82 |
| Yuan                       | 6.8842     | 6.9467    | +0.91 |