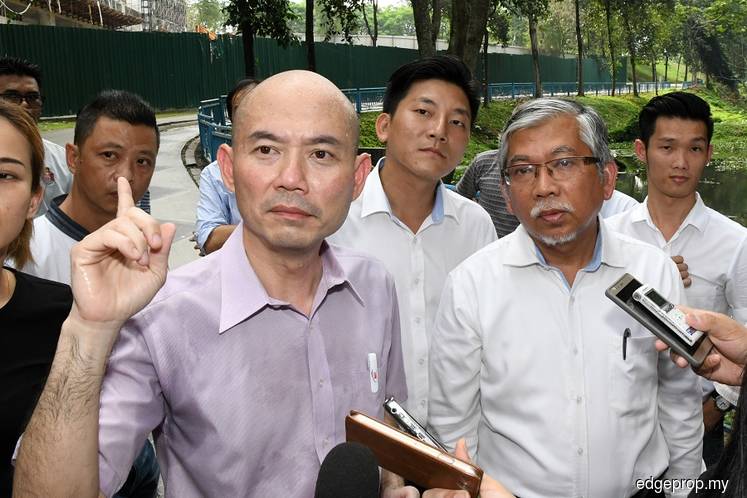 KEPONG (June 6): Kepong MP Lim Lip Eng has revealed that Aset Kayamas Group of Companies is one of the biggest beneficiaries to the 64 suspicious land deals involving Kuala Lumpur City Hall (DBKL).
The deals are currently under investigations by the Malaysian Anti-Corruption Commission (MACC).
"This could be a huge scam of DBKL selling 64 pieces of land to make money. One developer even got 16 of the 64 pieces of land," Lim told reporters during the site visit to Taman Metropolitan Kepong in Kepong to check on the safety risk posed by two construction projects adjacent to the park. Coincidentally, one of the two projects is The Henge condominium by Aset Kayamas.
Lim added that he is glad that the MACC is finally taking action on the land deals investigation.
"But why only [take action] two weeks after I lodged the report and complaint? But I guess better late than never," said Lim.
He also noted that former Federal Territories Minister Datuk Seri Tengku Adnan has been very quiet about these land deals.
"Who approved all these land deals?" Lim asked.
On Tengku Adnan's statement that Yayasan Wilayah Persekutuan (YWP) has nothing to do with the land deal pertaining to the controversial proposed development at Taman Rimba Kiara in Taman Tun Dr Ismail, Lim responded:
"DBKL sold land to YWP and YWP sold the land to developers. How can it be that YWP has nothing to do with Taman Rimba Kiara? YWP has everything to do with Taman Rimba Kiara!"