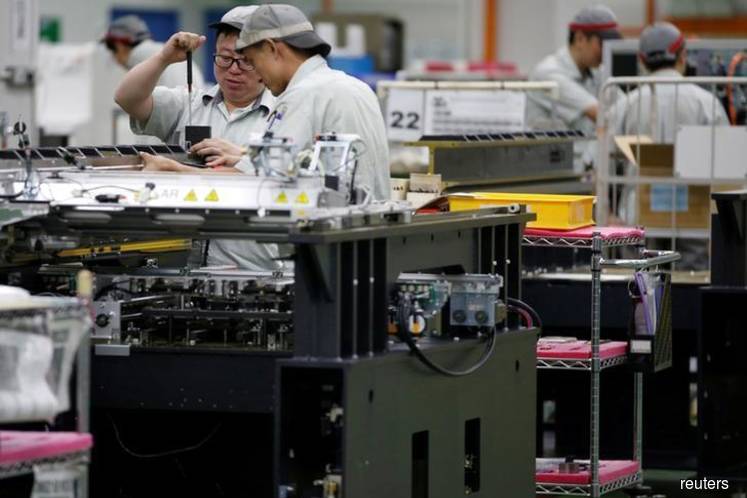 KUALA LUMPUR (Jan 2): Manufacturing activity in the ASEAN region edged down in December, the slowest expansion since March last year, a survey showed Wednesday.
The headline Nikkei ASEAN Manufacturing Purchasing Managers' Index (PMI) — a composite single-figure indicator of manufacturing performance — dipped to 50.3 in December from 50.4 in November, indicating a further slight improvement in the health of the Asean manufacturing sector.
Readings above 50 indicate an expansion while those below 50 indicate a contraction.
IHS Markit, which compiles the survey, said excluding the fall in October, the latest data marked the slowest expansion since March 2018. Activity was dampened by another weak uplift in new orders, which rose only slightly. Export orders continued to decline, with firms widely reporting a downturn in overseas demand.
"December's survey of ASEAN manufacturers indicated that the recent fall in raw materials prices such as crude oil and metals translated into the weakest rise in input costs for over two years. The softer rate of inflation was undoubtedly welcomed by companies to help ease pressure on margins. Output growth remained marginal but relatively in line with the average for 2018, while new orders rose at a slightly faster rate.
"The rate of input cost inflation meanwhile weakened substantially in December, amid reports of falls in market prices for items such as crude oil. The pace of increase dropped to a 26-month low, with Thailand and Vietnam reporting an outright decline in prices. Subsequently, selling charges increased at the softest pace since December 2016," David Owen, an economist at IHS Markit, said in a statement today.
He said five of the seven countries monitored by the survey recorded an improvement in operating conditions during December, led by Vietnam, whose manufacturing growth saw the strongest upturn despite growth easing from the particularly strong rate seen in November.
The Philippines also recorded a solid improvement, ranking second in the league table.
Myanmar rose in the league table to third place, as the country saw conditions improve at the strongest rate in seven months, as new orders continued to rise solidly. Indonesia stood at fourth place, recording the first increase in new work since September, which in turn boosted output and employment growth.
Thailand manufacturers saw a marginal improvement in overall operating conditions in December, which nonetheless marked the first expansion in three months. Firms highlighted scaling up output to clear backlogs, with production rising at the strongest rate since May.
Meanwhile, Malaysia and Singapore saw solid declines in the health of their manufacturing sectors. Both countries recorded lower output for the third successive month, indicating a weak final quarter for businesses.
Employment growth edged up in December. While marginal, it was the strongest increase in staff numbers since September. Meanwhile, backlogs of work fell at the joint weakest rate in 16 months, according to the report.
Vendor performance improved for the first time in ten months during December, signalling a waning of pressures on supply chains in recent months. That said, the rate at which delivery times shortened was fractional, said the report.