This article first appeared in The Edge Financial Daily, on August 16, 2019.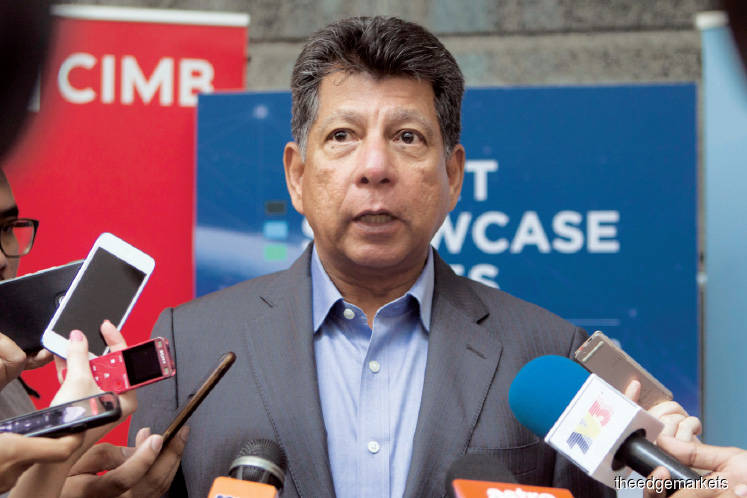 Munir: The reality is that Asean is still at the nascent stage of development in the digital economy. Photo by Patrick Goh
KUALA LUMPUR: Asean stands to be at the forefront of the development of financial technology (fintech), which will make financial services and financing available to both the 53% of unbanked population and micro, small and medium enterprises (MSMEs) in the region, which enjoys above global average Internet penetration and mobile connectivity rates.
But there are regional and domestic gaps that hinder fintech's growth that must be addressed, said CIMB Asean Research Institute (Cari) chairman Tan Sri Dr Munir Majid, who is also a member of the Economic Action Council chaired by Prime Minister Tun Dr Mahathir Mohamad.
These includes upscaling of human capital, enhancing broadband infrastructure on the home front, and harmonising policies to create a seamless Asean-wide digital economy, Munir said.
"Fintech will be able to mitigate the three main problems faced by MSMEs and the poorest unbanked households, namely the payment and transfer gap, savings gap and credit gap. The reality is, however, that Asean is still at the nascent stage of development in the digital economy where a few countries are beginning to set up regulatory sandboxes to pilot-test fintech ideas.
"Asean needs to catch up, not just in terms of technology, but also [in] realising that unless it creates a region-wide ecosystem, the benefits would be less impactful," he said in his opening speech at a conference themed "Future of Fintech in Asean" organised by Cari yesterday.
Over 30 speakers from Malaysia, Singapore, Thailand, and Japan attended the one-day Cari conference yesterday to share their insights into the latest fintech covering bank and insurance related technologies, equity crowdfunding (ECF) and blockchain technologies.
Malaysia's crowdfunding, P2P financing hit RM432m as at June
Also at the event was Securities Commission Malaysia (SC) chairman Datuk Syed Zaid Albar, who shared that Malaysian ECF and peer-to-peer financing platforms had collectively raised RM432 million as at June this year.
Syed Zaid said the funds, raised since 2015, had benefitted over 1,200 MSMEs, with financing campaigns attracting more than 12,000 investors, 90% of whom are local and retail investors.
"Approximately 53% of the participating investors are aged below 35, demonstrating the potential of this segment in democratising access to a new generation of investors," he said in his keynote address at the conference.
In response to the emerging pool of digital-savvy investors, the SC is facilitating the provision of digital-only services, such as robo-advisory, which offers investing convenience, better accessibility and transparency at a relatively affordable cost, he said.
To date, Syed Zaid said the SC had licensed three digital investment managers and one digital-only equities broker, and issued approval in principle to one digital investment manager.
"We have also introduced new requirements for electronic platforms to facilitate the trading of digital assets," he said, adding that the SC had registered three recognised market operators to establish and operate digital asset exchanges in Malaysia.
"Going forward, we expect more participants entering our market, especially in micro-investing, financial planning, investment advice, social investing and automated trading," he said.
While technology generates more opportunities in the financial world, Syed Zahid cautioned against the rising risk of cyberthreats. "Therefore, even as we enhance the digitisation of our markets, I would like to remind our market intermediaries and investors to remain vigilant and take the issue of cyber-risk seriously," he said.
The event yesterday also hosted two Asean Roundtable Series. The first panel, discussing the opportunities of fintech in Asean, involved representatives of fintech associations from Singapore, Thailand and the Philippines.
The second panel, concerned about how Asean intends to migrate to a cashless and borderless e-payment ecosystem, involved speakers from the Asean Bankers Association, BigPay, Magpie.IM Inc and Boost.