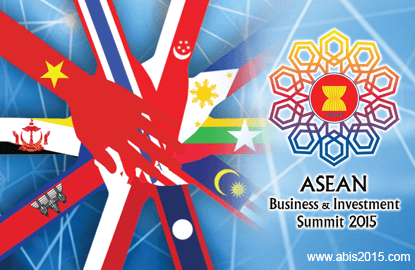 Asean Business & Investment Summit returns
This article first appeared in The Edge Financial Daily, on November 18, 2015.
KUALA LUMPUR: The Asean Business & Investment Summit (ABIS) is returning to Malaysia for its 12th edition, and will once again serve as the central platform for private sector input and discussions on economic issues in the region.
Organised by the Asean Business Advisory Council (Asean-BAC), the mandated private sector representative in Asean, ABIS 2015 will be held at the Shangri-La Hotel here on Friday and Saturday.
To be launched by 2015 Asean chair Prime Minister Datuk Seri Najib Razak, it will feature distinguished addresses by United States President Barack Obama, Japanese Prime Minister Shinzo Abe and Indian Prime Minister Narendra Modi, and will host more than 20 speakers from around the globe.
Besides discussions involving current and future economic and business issues, a number of Asean economic ministers will also discuss and review progress of the Asean Economic Community (AEC), said Asean-BAC in a statement.
ABIS 2015 chairman Tan Sri Dr Mohd Munir Abdul Majid said the event should attract some 800 participants from multinational corporations (MNCs), regional conglomerates, and businesses from around the world.
"We are honoured to have global political and economic leaders and partners — particularly the leaders of the US, Japan and India — join us in marking the Asean community's increasing significance.
"The AEC is a requisite framework in the regional integration process, and its progress will be the main topics discussed at ABIS, alongside the all-important post-2015 economic agenda for Asean," he added.
Themed "Business for the People", ABIS 2015 will have designated discussions on the overarching issues of financial integration in the Asean economy, and prevailing people-centric issues such as the small and medium enterprises' (SME) agenda, women and young entrepreneurship. Additionally, emphasis will be placed on the importance of innovation, digitalisation and sustainable development, taking into consideration their significant and long-term impact on the community-building process.
The statement also noted that ABIS 2015 will see the presentation of the 8th Asean Business Awards (ABA), the leading business success showcase programme in recognition of regional business excellence.
This will be the first time ABA is held in Malaysia; it incorporates 21 awards, including the recognition of SME Excellence, and the identification of successful young and woman entrepreneurship. All award recipients will be announced at ABA's gala dinner on Friday.
There is a new category of "Friends of Asean" Awards to recognise excellence of non-Asean MNCs with a strong presence in the region, besides an inaugural Lifetime Achievement Award for "contributions over the years to the realisation of the AEC".
The ABA 2015 will also present another key Asean-BAC initiative, the inauguration of the Asean Young Entrepreneurs Council.