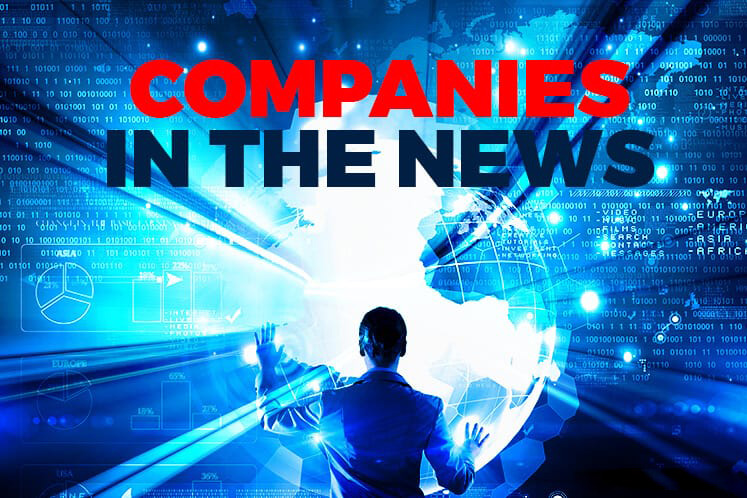 KUALA LUMPUR (March 15): Based on corporate newsflow and announcements today, stocks in focus on Monday (March 18) may include: Asdion Bhd, Boustead Holdings Bhd, Boustead Heavy Industries Corporation Bhd, Country Heights Bhd, Eversendai Corporation Bhd, Pestech International Bhd, Selangor Properties Bhd and Texchem Resources Bhd.
Asdion Bhd is acquiring Kingdom Infra Holdings Bhd, which holds exclusive rights to operate the 30-acre sea-port land and marine supply base in Tumpat, Kelantan for RM66.5 million, adding that Kingdom Infra Holdings is set to yield a profit of RM12 million for the group in financial year 2020.
The base services the Eastern Corridor of Thailand, Cambodia and Vietnam and with further access to Hong Kong and Guangzhou, China for mineral exports.
Boustead Holdings Bhd's sale of its Royale Chulan Bukit Bintang Hotel in Kuala Lumpur to Singapore-based Hotel Royal Ltd for RM197 million is confirmed, just a fortnight after the Defence Ministry said the sale was not a done deal. The development finalises the initial announcement made on Bursa Malaysia on Feb 19.
Meanwhile, Boustead's subsidiary Boustead Heavy Industries Corporation Bhd announced that the Ministry of Defence (Mindef) has amended the contract that had been awarded to its associate company Boustead Naval Shipyard Sdn Bhd (BNS).
In the filing to Bursa Malaysia, BHIC said Mindef has decided to have all four Littoral Mission Ships built and delivered in China at a lower price of RM1.047 billion.
Previously, the first two ships were to be built and delivered in China, with the remaining pair to be built and delivered in Malaysia for a total of RM1.17 billion.
A  new chief executive officer (CEO) has entered office at Country Heights Holdings Bhd, in the form of Datuk Low Kok Thai, 49. His appointment is effective immediately and he is filling a vacancy in the position left by Lee Cheng Wen, daughter of the group's founder and executive chairman Tan Sri Lee Kim Yew, who was in turn re-designated as deputy chairman on Oct 1, 2016.
Eversendai Corp Bhd has seen IJM Corp Bhd founder Koon Yew Yin dispose of his 26.18 million shares yesterday. Post-disposal, he owns 38.96 million shares or 4.99% of Eversendai's shareholdings. He first became a substantial shareholder on April 28, 2017, when he acquired 45.95 million shares or a 5.937% equity interest in the group.
Pestech International Bhd's wholly-owned outfit Pestech Power Sdn Bhd (PPW) has signed a Memorandum of Understanding (MoU) with Japanese outfit RS Renewable KK (RSRKK) for a potential joint investment in the bidding for the Large Scale Solar Photovoltaic Plants for Peninsula Malaysia (LSS 3 Project) – with the MoU framed around both parties' possibility of undertaking a joint co-operation for a bid with regards to the LSS 3 Project. If successful in the bid, both PPW and RSRKK would consider investing in the LSS 3 Project through a special purpose vehicle.
Selangor Properties Bhd posted a net profit of RM23.04 million in the first quarter ended Jan 31, 2019 (1QFY2019) compared to a net loss of RM40.94 million in the previous corresponding quarter, on the back of lower foreign exchange losses.
Meanwhile, the developer's revenue leapt by 67.4% to RM48.04 million from RM28.69 million the year before, on the back of higher revenue contribution from property developments in both Malaysia and Australia.
The group is in the midst of being privatised by the Wen family at RM6.30 per share.
Sushi King operator Texchem Resources Bhd sold its 51% stake in wholly-owned unit Acumen Scientific Sdn Bhd to Delaware, US-based Merieux Nutrisciences Corp for RM4.28 million, enabling it to sell a non-core operating subsidiary and unlock the value of its investment there
Acumen is involved in providing chemical, microbiological and environmental-related analytical testing and monitoring services  — with Texchem saying that it has signed a shares purchase agreement and shareholders agreement with the US-based firm.