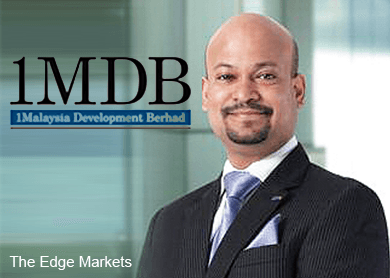 KUALA LUMPUR: 1Malaysia Development Bhd (1MDB) president and group executive director Arul Kanda Kandasamy said he will take full responsibility for the misunderstanding of a parliamentary response submitted by the Ministry of Finance (MoF) regarding the funds redeemed from the Cayman Islands and parked in Singapore.
Arul was responding to  comments made by former prime minister Tun Dr Mahathir Mohamad in his blog post. On May 28, Dr Mahathir wrote in his blog that Prime Minister Datuk Seri Najib Razak is responsible for his written reply in Parliament on 1MDB's assets in Singapore, after Putrajaya said it was prepared by ministry officials.
This follows Najib's written parliamentary reply in March that the remaining US$1.103 billion (RM4.08 billion) of 1MDB's investment funds was transferred to its account in BSI Bank Ltd in Singapore to ease the facilitation of transactions.
But in another reply on May 19, Najib said the balance of the investment redeemed by 1MDB was assets in US dollars for the purpose of balancing its liabilities, which were also in US dollars.
On May 24, the MoF said the documents on the financial status of 1MDB at BSI Bank were written and checked by its officials based on information from the company. The ministry also reportedly said it had amended the original reply on March 10 so as not to create confusion about the financial status of 1MDB in BSI Bank, in line with the requirements of Parliament.
In a statement yesterday, Arul conceded that the parliamentary response submitted by the MoF was subsequently amended.
"This has been previously acknowledged by the MoF, and occurred due to confusion around some information provided by 1MDB. As the president of the company, I take full responsibility for this misunderstanding, and will ensure better communication with all stakeholders.
"Furthermore, as clarified by the MoF, appropriate steps have already been implemented to prevent this [from] happening again in the future," he said in the statement.
Arul also made it clear that his role at the troubled state investment fund is as a professional.
"As a professional, I am fully accountable for my actions and am answerable to the 1MDB board, and our shareholder the MoF. In the current context, this also includes the Auditor General, Bank Negara Malaysia and the Public Accounts Committee.
"These are the lawful authorities to verify whether or not I have ever lied, as has been claimed, as they have access to all information. I shall continue to conduct my duties in a professional manner, and furnish all information to assist the lawful authorities to verify the truth about 1MDB," said Arul.
In his blog post yesterday, Dr Mahathir accused Arul of lying after the latter was caught being "untruthful" several times over the company's dealings.
In yesterday's statement, Arul hit back at Dr Mahathir, saying the latter's continuous shift in numbers and allegations is perplexing.
"Tun Mahathir has previously claimed that RM42 billion is missing. Now, after 1MDB provided a summary of how the RM42 billion was spent — based on past audited financial statements — he has stated in his blog post 'where a chunk of the RM42 billion went is questionable'," Arul said.
This article first appeared in The Edge Financial Daily, on June 11, 2015.