This article first appeared in The Edge Financial Daily, on August 1, 2018.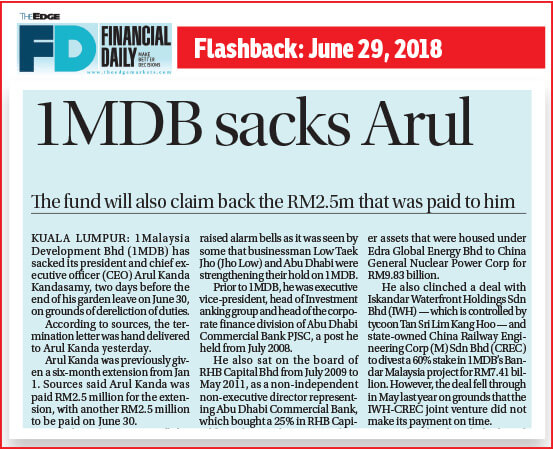 KUALA LUMPUR: Arul Kanda Kandasamy, the former chief of troubled 1Malaysia Development Bhd (1MDB), was offered RM5 million as salary for six months from January to June this year. Half of that or RM2.5 million had been advanced to him, according to Finance Minister Lim Guan Eng.
According to Guan Eng, the remaining RM2.5 million was supposed to be paid after June 30, 2018. "Luckily there was a change in government. Otherwise he would have pocketed the balance," he said in Parliament yesterday.
"The contract to pay the remuneration was signed by none other than the former finance minister," Guan Eng said, referring to Datuk Seri Najib Razak. Guan Eng's press officer Rahmah Ghazali, however, later clarified that the contract was signed off by former treasury secretary-general Tan Sri Irwan Serigar, while Najib approved it.
Guan Eng's revelation yesterday confirmed a report by The Edge Financial Daily on June 29, when it wrote, citing sources, that Arul Kanda had previously been given a six-month extension from Jan 1. He was paid RM2.5 million for the extension, with another RM2.5 million to be paid on June 30.
Arul was the third president and chief executive officer of 1MDB, a brainchild of Najib that had racked up debts of about RM50 billion. Arul was sacked from 1MDB two days before the end of his contract on June 30, on the grounds of dereliction of duties. He first joined 1MDB in January 2015 and was tasked to turn around the troubled finances of the strategic investment fund.
In a related matter yesterday, Guan Eng revealed that SRC International Sdn Bhd had paid its directors, Datuk Suboh Md Yassin and Nik Faisal Ariff Kamil, fees amounting to RM84,583 and RM74,583 respectively.
Interestingly, according to Guan Eng, "these fees were paid over a four-month period." Nik Faisal was paid RM335,533, and a bonus of RM533,000.
Under Najib's watch, the previous Barisan Nasional administration established SRC International, a former 1MDB subsidiary, in early 2011 to pursue strategic overseas investments in energy resources.