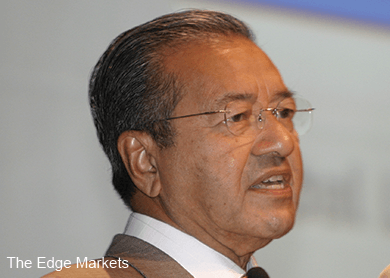 (June 9): Tun Dr Mahathir Mohamad has called 1Malaysia Development Berhad (1MDB) president Arul Kanda Kandasamy a liar, after the latter was caught being untruthful several times over the company's dealings.
In his latest blog posting today, Dr Mahathir said although 1MDB had recently explained its businesses and what it had invested in, he was not satisfied with the explanation as it was from Arul.
"I am intrigued by the ability of 1MDB to invest RM42 billion in so many businesses. Really, I should be fully satisfied with how 1MDB expanded the huge loan that it borrowed," he said.
"But unfortunately I am not. I am not, because the information came from the president and group executive director Arul Kanda Kandasamy. And Arul has been caught lying quite a number of times."
Referring to 1MDB's US$2.318 billion investments in the Cayman Islands, Dr Mahathir said Arul Kanda had, when he first took over the state investment fund, said that the money had been redeemed in full.
"He said clearly and openly that he saw the cash i.e. one billion dollars in cash. Then he said it was statements. What are the statements?
"Anyway, in the end, the bank said no cash and only documents were deposited in it and the documents carried false signatures.
"He must have told the prime minister about this fantastic pile of dollar notes so the prime minister answered the question in Parliament that the cash is in the bank in Singapore," the retired statesman said.
Dr Mahathir was referring to Najib's answer in Parliament in March, where the prime minister said the US$1.103 billion from the Cayman Islands were now parked at BSI Bank Limited Singapore (BSI Singapore).
"The decision to use BSI Singapore (is) to facilitate easier withdrawals since regulations set by Bank Negara Malaysia needed its approval for transactions over RM50 million," Najib had said.
However, Dr Mahathir noted that Najib as the finance minister could approve or reject all Bank Negara structures or approvals.
"Then the banks denied that the cash was in the bank. Embarrassing. The vision has disappeared. No. It is not cash. It is documents. No, it is units. What units? Dunno. Which bank? Not clear. The mystery deepens.
"So when Arul announced the investments of RM42 billion, could it be something else that he saw which was not there," he said.
Earlier this month, 1MDB gave a breakdown of the money, revealing that it had spent RM18 billion on the purchase of independent power producers while RM15.4 billion was invested into funds such as Brazen Sky and Aabar Investments.
After taking away RM5.8 billion in financial expenditure (cost of finance and working capital) and RM1.7 billion in land costs, 1MDB is left with RM900 million in cash surplus.
Today, Dr Mahathir questioned why the state investment vehicle had borrowed money to pay off its tax dues.
"What tax? No profit was declared but tax was paid. How much? Cost of managing 1MDB runs into billions!"
"Arul had lied before. It is not inconceivable that on the 42 billion ringgit Arul may be lying again. Where a chunk of the 42 billion ringgit went is still questionable," he said.
Criticism has been mounting over the state investment vehicle, established in 2009, which has chalked up debts of up to RM42 billion, backed by Putrajaya.
The auditor-general is currently looking through 1MDB's books, with a preliminary report expected to be submitted to the Parliament in June, while the Public Accounts Committee started its investigation into the company on May 19.
Arul Kanda failed to attend a scheduled inquiry with the Public Accounts Committee (PAC) two weeks ago, explaining later that he was abroad at the time.
He said he was not able to attend the hearing as he only received the notice from the Finance Ministry on May 21 while his appointment with the PAC was on May 26. – The Malaysian Insider