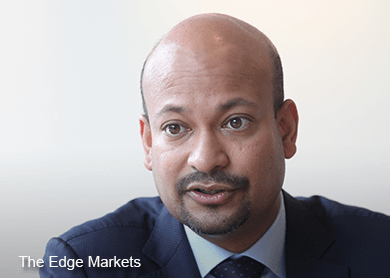 (May 29): Under fire for not turning up at a scheduled inquiry by the Public Accounts Committee (PAC) on Tuesday, 1Malaysia Development Bhd (1MDB) president and group executive director Arul Kanda Kandasamy insisted he was abroad at the time.
He also confirmed that he met Barisan Nasional Backbenchers Club (BNBBC) president, Tan Sri Shahrir Samad the following night in Kuala Lumpur, but said this was only after he returned to Malaysia.
"Yes, I met with Shahrir, but that was on Wednesday. I wasn't available for the PAC hearing as I was only back in the country on Tuesday night," Arul told The Malaysian Insider when contacted.
"I've got nothing to hide. It was a pleasant conversation and he is a very intelligent, articulate man."
But Arul refused to be pulled in when asked where he had been during his stint overseas, despite PAC member Tony Pua openly demanding that he and former CEO Datuk Shahrol Azral Ibrahim Halmi explain their whereabouts.
"I'm more than happy to answer if I'm questioned about it before the PAC," said Arul.
A source told The Malaysian Insider that the Wednesday night meeting between Arul and Shahrir took place at a hotel near KL Sentral, Kuala Lumpur, and went on till the wee hours of the morning.
The source, who refused to be named, questioned why Arul was unable to attend the PAC hearing, yet had no problem meeting Shahrir.
"PAC summoned the 1MDB president, but he cannot attend because he says he is overseas for an important matter.
"But he was able to meet the BNBBC president last night. Has BNBBC taken over PAC's duties?" asked the Umno source.
Arul told The Malaysian Insider that Malaysia was a free country and he should be free to move and meet whoever he liked.
He said he was not able to attend the hearing as he only received the notice from the Finance Ministry on May 21.
Arul and Shahrol's absence was earlier conveyed to PAC in a letter from the Finance Ministry last Friday, sparking criticism from DAP, a Barisan Nasional lawmaker, as well as Najib's brother, CIMB chairman Datuk Seri Nazir Razak, who in the past called for more accountability from 1MDB.
Najib, the finance minister and chairman of 1MDB's advisory board, had assured the two top executives will appear to testify before PAC.
"1MDB officials will appear before PAC, will not run away," he was quoted as saying by national news agency Bernama.
Criticism has been mounting over the Finance Ministry's wholly-owned investment vehicle, established in 2009, which has chalked up debts of up to RM42 billion, backed by Putrajaya.
The auditor-general is currently looking through 1MDB's books, with a preliminary report expected to be submitted to the Parliament in June, while PAC started its investigation into the company on May 19. – The Malaysian Insider