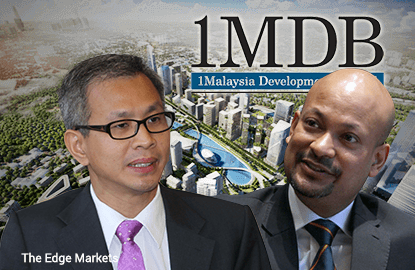 KUALA LUMPUR (May 18): Arul Kanda Kandasamy, 1Malaysia Development Bhd's (1MDB) president and group executive director, said it is no longer possible to engage with opposition lawmaker Tony Pua in a debate over 1MDB on concerns that it may prejudice 1MDB's legal position following a police probe into the fund, and its dispute with Abu Dhabi's sovereign wealth fund, International Petroleum Investment Co (IPIC).
"I refer to the debate challenge issued by YB Tony Pua on April 14, 2016. Since it was issued and accepted a month ago, there have been two key developments that mean it is no longer possible for me to engage with YB Tony in a debate," he said.
He cited the police investigations into the findings of the Public Accounts Committee (PAC) on 1MDB, and 1MDB's public dispute with IPIC, as those two developments.
"I am now fully focused on assisting PDRM (the Royal Malaysian Police), and resolving the IPIC dispute. As such I cannot engage in a debate which may prejudice 1MDB's legal position in relation to the investigation and the dispute," he added.
It was reported yesterday that the first one-to-one debate between Pua, who is also DAP national publicity secretary, and Arul Kanda, over controversies surrounding the strategic development fund was still on.
Pua had told reporters that Arul Kanda had agreed to proceed with the debate in April, and added that they were making the preparations to take the gloves off on air.
"Arul [Kanda] has since contacted me to make the necessary arrangements for the event. He has assigned Robert Ho, 1MDB's head of communications, to lead the discussion on the format and structure of the talk show or debate," the member of parliament (MP) for Petaling Jaya Utara had said at the Parliament lobby on Tuesday.
Pua had also called on Communications and Multimedia Minister Datuk Seri Dr Salleh Said Keruak to reoffer RTM or TV3 as platforms to a live televised debate on 1MDB, following his offer last October, before the event was cancelled.
But when approached later, Salleh said RTM had no interest to televise the debate between Pua and Arul Kanda as the 1MDB issue had been resolved following the tabling of the PAC report in Parliament in April.
The debate between Pua and Arul Kanda, which was supposed to be telecast live by RTM, was cancelled last November after Dewan Rakyat Speaker Tan Sri Pandikar Amin Mulia set a condition that Pua can only debate Arul Kanda if he resigns from the PAC, as the committee's probe into 1MDB was still pending.
Yesterday, Pua said he had issued a second challenge to Arul Kanda to a debate on April 14, after the PAC report was tabled to Parliament on April 7, which Arul Kanda had accepted.