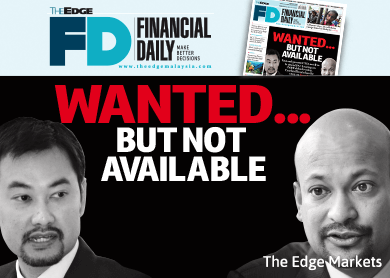 KUALA LUMPUR: Is there any business more important than appearing before a Parliamentary committee to explain the RM42 billion question that every Malaysian wants an answer to?
Apparently there is, to the past and present chief executive officers (CEOs) of troubled 1Malaysia Development Bhd (1MDB).
"Sorry, we are busy and we have to travel" was what the two — Datuk Shahrol Halmi and Arul Kanda Kandasamy — told the Public Accounts Committee (PAC) for being unable to attend the hearing set for today.
PAC chairman Datuk Nur Jazlan Mohamed said yesterday that the Ministry of Finance (MoF) had written to him last Friday saying the two men would not be able to attend the hearing as they were travelling and asked that they be given a 30-day grace to appear.
This prompted scathing criticism from the opposition Member of Parliament for Pandan Rafizi Ramli, who alleged the duo were acting on the instructions of Prime Minister Datuk Seri Najib Razak.
"Najib does not want them to come because once you put them in the firing line of the PAC, there is a fear they cannot manage the questioning and more worms will come out of the can. That's why Najib took this risk of not allowing them to come at all despite the public anger," claimed Rafizi.
He said Arul and Shahrol should have exercised more accountability as professionals and turned up.
"Even if there were instructions for them not to attend, a person of professional integrity would have said, 'I have to attend because I am responsible for this'. It's okay if they say 'I can't answer that', it's fine, but have some respect for Parliament and the PAC," Rafizi said.
Shahrol was 1MDB's first CEO from February 2009 to March 2013, while Arul was appointed in January this year.
Both are key witnesses in the PAC's inquiry into MoF-owned 1MDB, which has incurred RM42 billion in debt in just six years of operations and is facing a massive cash flow problem.
Nur Jazlan said he has not decided whether to agree to the 30-day extension requested by Arul and Shahrol, and that the hearing will continue with other witnesses.
When asked if the reasons given by the duo warrant a postponement of the proceedings of such a high-profile probe, Nur Jazlan said he has accepted their reasons for not attending in good faith.
"We take what they say in good faith, they both work for the government and they are not going to run away ... I hope," he said. "We have to be fair to them. We will set the date and we will fix a later date (after the 30-day period) when we will call them ... but it does not stop us from calling the next [on our list], the auditor of 1MDB, which is Deloitte," Nur Jazlan said, adding that letters will be sent out to Deloitte and the other two auditing firms previously involved with 1MDB, KPMG and Ernst & Young, over the next few days.
Deloitte came under fire yesterday by another PAC member, DAP's Tony Pua, who said the audit of 1MDB's accounts had been "highly questionable".
The auditor had signed off on 1MDB's 2014 accounts in early November last year, but two weeks later, the state investment firm struggled to repay a RM2 billion loan.
Deloitte is still 1MDB's auditor for the financial year ended March 2015, and Pua said it should restate 1MDB's accounts from the previous year to provide a true picture. Deloitte is 1MDB's third auditor since the strategic investment firm started operations in 2009, and the frequent change of auditors has raised eyebrows.
"In our plan, [calling up] the board [of 1MDB] is No 4 on our list. First the MoF, the CEOs, the auditors and then the board. Because once we [have] compiled statements and testimony from the first three, then only can we ask the board [about] their responsibility in the whole process," said Nur Jazlan.
The PAC started its probe into 1MDB last Tuesday, when it summoned Economic Planning Unit director-general Datuk Seri Dr Rahamat Bivi Yusoff and Treasury secretary-general Tan Sri Mohd Irwan Serigar Abdullah. The latter is also on the company's advisory board.
This article first appeared in The Edge Financial Daily, on May 26, 2015.